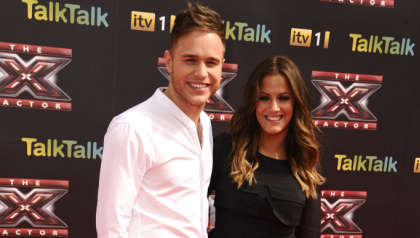 Olly Murs shared details of a tribute which was written about him by his late friend Caroline Flack ahead of his concert tour in 2018 and 2019.
Speaking to Jamie Laing on his podcast show Private Parts, a visibly emotional Murs revealed that Flack had written a tribute about him, where he was described by the former Love Island presenter as her "soulmate".
"I'm really trying to keep it together here", Murs told the podcast as he fought back tears.
The singer went on to read a passage from this tribute, "When I met Olly for the first time it felt like I had met my soulmate. Not in a weird way, it was just like meeting someone I'd known all my life", he began.
"I've never laughed as much as I did in 2011 when we first hosted The Xtra Factor together and that experience will always stay with me forever", Murs continued. "He's one of the most talented people I've ever met in my whole life and he puts 100% into everything he does".
"He keeps the whole team going and for that I forgive him for his dad jokes".
"One of the moments"
Alongside Flack, Olly Murs co hosted two series of The Xtra Factor, the spin off to the X Factor, along with one series of the singing contest between 2011 and 2015.
Caroline Flack who also presented Love Island and won Strictly Come Dancing in 2014, took her own life in 2020.
Speaking on the podcast, Murs added that he is still coming to terms with with the death of his friend and colleague.
"Knowing obviously the pain she must have been in to take her own life, to hear her say 'I've never laughed as much as I did in 2011' and that memory of us being together was one of the moments", Murs said of Flack's final years. "Just little things like that...".
Elsewhere, Olly Murs shared that he would often look back on previous text messages and even listen to voice notes sent to her by Flack. The singer revealed that he recently stopped doing that, as he would get too emotional.
He has also deleted some messages, however he has kept certain gifts to remember he by.