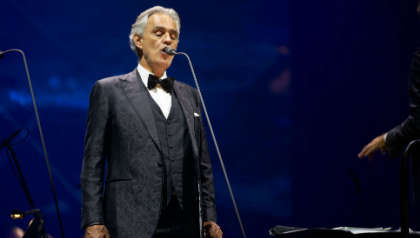 Classical singing legend Andrea Bocelli is starring in John Lewis' iconic Christmas TV advert for 2023.
The advert which is titled 'Snapper, the Perfect Christmas Tree', features the track 'Festa', meaning 'celebration', which was written by duo Le Feste Antonacci specifically for the John Lewis advert. The lyrics were also written especially for and approved by Bocelli himself.
The track ads a twist to traditional music at Christmas, as well as carrying the joy and emotional power of the advert.
'Snapper, the Perfect Christmas Tree', focuses on a young boy who is nurturing a plant from a seed, believing that he is producing the perfect Christmas tree.
However, what is produced is a mischievous Venus flytrap named Snapper, an unexpected twist and joy to Christmas. This ad also includes the strapline, 'Let Your Traditions Grow'.
This is part of a campaign to show how the unusual and unexpected can still led to a happier time at Christmas, as opposed to the conventional, status-quo of being "perfect".
"We are a nation that loves the traditions of Christmas and John Lewis Christmas ad music has become one of those traditions, but potentially a little predictable. We have a very different character this year so wanted a song with a very different impact. Interestingly the final track is wildly different from AI predictions which this year forecast a cover of a well-known ballad", Charlotte Lock, Customer Director for John Lewis said.
"We wanted a track that would really surprise and move us on from the acoustic versions of classic covers that have been the hallmark of John Lewis ads for so long. We were thrilled when Andrea Bocelli agreed to lead this powerful celebratory song which I'm confident the nation will be humming and singing in no time".
Bocelli also added, "I am delighted to take part in this wonderful and unique tradition of Christmas storytelling. It is very special for me given the great support this will bring to both the John Lewis and Andrea Bocelli foundations. Joy to all of your worlds this Christmas!".