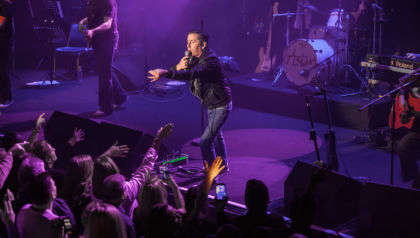 Christy Dignam has been placed under palliative care at his home, it has been revealed.
The Aslan frontman was diagnosed with a rare blood condition called Amyloidosis back in 2013.
Dignam has endured a difficult few months, having been rushed to Beaumonth Hospital last July, spending 6 months being treated by the Haematology and Cardiac Care Team.
Last year, his health setbacks saw Aslan cancel their 40th Anniversary Show.
Earlier today, a statement was released confirming that Christy Dignam has been placed under palliative care.
"Christy & Kathryn Dignam and their family, daughter Kiera, son in law Darren, and grandchildren, are sharing an update on Christy's health, in response to the large number of media enquiries received".
The statement added, "In July 2022, Christy was admitted to Beaumont Hospital and spent the next six months in the care of the Haematology and Cardiac Care team".
"Since December, Christy has been at home and is being cared for lovingly by family, with the support of a palliative care team", they continued. "The Dignam family thanks everyone for keeping Christy in their thoughts and prayers and asks for privacy at this time".
Dignam's band Aslan have also announced that all upcoming shows will be cancelled amid this sad news.
January 16, 2023
Having formed in 1982, Aslan are known for hits This Is and Crazy World.