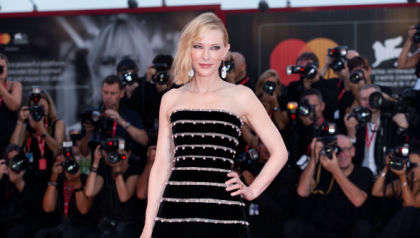 Cate Blanchett has insisted that her film Tár is not "anti-woman".
Blanchett came under fire from leading female conductor Marin Alsop in an interview given to the Sunday Times, where she labelled the film "anti woman", adding that it was "heartbreaking" to see that Blanchett's was developed in such a way.
In the interview, Alsop pulled no punches, "I was offended as a woman, I was offended as a conductor, I was offended as a lesbian. There are so many men – actual, documented men – this film could have been based on but, instead, it puts a woman in the role but gives her all the attributes of those men. That feels anti-woman", she said to Blanchett.
She added, "To have an opportunity to portray a woman in that role and to make her an abuser? For me that was heartbreaking".
Blanchett Responds
In response, Cate Blanchett said that while she has the "utmost respect" for Alsop, she explained that the film is about the "corrupting nature of power".
"I think that power is a corrupting force no matter what one's gender is. I think it affects all of us", she added.
"I have the utmost respect for Marin Alsop. She's a trailblazer of a musician and a conductor. And, it's a very provocative film and it will elicit a lot of very strong responses for people", Blanchett said.
"What [director Todd Field] and I wanted to do was to create a really lively conversation. So there's no right or wrong responses to works of art. It's not a film about conducting, and I think that the circumstances of the character are entirely fictitious".
"I looked at so many different conductors, but I also looked at novelists and visual artists and musicians of all stripes. It's a very non-literal film", she added.
Adding that Alsop was "entitled to her opinion", Blanchett also dismissed the idea that Tár was offensive to women.
"I don't think you could have talked about the corrupting nature of power in as nuanced away as Todd Field has done as a filmmaker if there was a male at the centre of it because we understand so absolutely what that looks like", Blanchett stated.
"I think that power is a corrupting force no matter what one's gender is. I think it affects all of us".
Cate Blanchett won Best Actress for her role as Lydia Tár in the film.