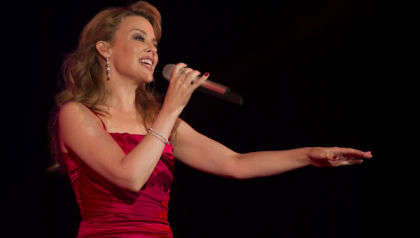 Kylie Minogue has released a new single, 'Padam, Padam'.
The track which you can check out below, has also been produced by Tiesto, Griff, and Anne-Marie, will feature on her latest album, 'Tension', which will arrive on September 22, including collaborations from Duck Blackwell and Richard "Biff" Stannard.
'Padam, Padam' also includes the following lyrics, "When your heart goes / Padam Padam / I hear it and I know / Padam Padam / I know you wanna take me home".
The music video was filmed in Los Angeles, and directed by Sophie Muller, and you can see for yourselves below.
On the latest single, Kylie Minogue had this to say in the following press release.
"I started this album with an open mind and a blank page", she said. "Unlike my last two albums there wasn't a 'theme,' it was about finding the heart or the fun or the fantasy of that moment and always trying to service the song. I wanted to celebrate each song's individuality and to dive into that freedom. I would say it's a blend of personal reflection, club abandon and melancholic high".
Minogue continued, "I loved being back in the studio with my collaborators but was also able to benefit from remote recording, which we have all got used to – my mobile studio never left my side for a year and a half!".
"The album is a mix of songs I have written and songs which really spoke to me. Making this album helped me navigate challenging times and celebrate the now. I hope it accompanies listeners on their own journeys and becomes part of their story".
Check out the tracklist for 'Tension' below.
1. 'Padam Padam'
2. 'Hold On To Now'
3. 'Things We Do For Love'
4. 'Tension'
5. 'One More Time'
6. 'You Still Get Me High'
7. 'Hands'
8. 'Green Light'
9. 'Vegas High'
10. '10 Out Of 10′
11. 'Story'