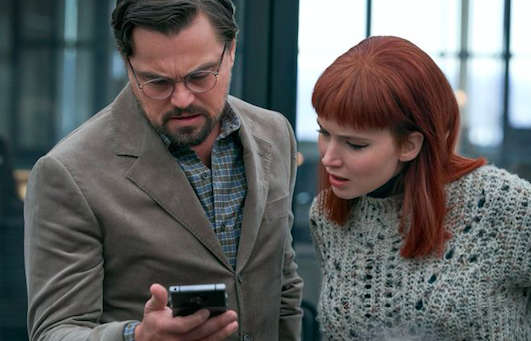 Leonardo DiCaprio and Jennifer Lawrence in 'Don't Look Up'. CREDIT: Netflix
Curious viewers of Netflix's latest star-studded film 'Don't Look Up' were in for a surprise when they discovered that a telephone number featured in the film directed them to a phone sex hotline.
The film, starring the likes of Leonardo DiCaprio and Jennifer Lawrence, shows the duo warning the world that an incoming comet is set to destroy the Earth, though their warnings go unheeded.
In an attempt to reach more people with their warning, DiCaprio's character, makes an appearance in a public service announcement, urging Americans to call 1-800-532-4500 to achieve "peace of mind" before the comet obliterates humanity.
"Right now, millions of you are having these same doubts and questions about the approaching comet," scientist Mindy says in the PSA. "That is why BASH Cellular, in conjunction with the United States government, is creating a new hotline, free of charge, to answer all of your questions.
"And who knows: Maybe, just maybe one of our scientists…can be that friend we all need to lean on during uncertain times."
Viewers who were curious enough to call the number were shocked to find that it was not only real, but that it directed them to an automated messaged for a sex hotline.
According to People magazine, the voice in the message says: "Welcome to America's hottest hotline. Guys, hot ladies are waiting to talk to you. Press one now. Ladies, to talk to interesting and exciting guys free, press two to connect free now."
"This is a phone number given during the movie Don't Look Up. I just called it. It's a phone sex line," one viewer tweeted. "Do you…think they checked this number before putting it in the movie? Is it a product placement for phone sex? The mind boggles."
Another said: "Lol, the helpline from Don't Look Up is a sex line. I called it. What is that? A commercial within a commercial within a commercial?"
It is currently uncertain if the connection was intentional or not on the part of the film's director Adam McKay.
In a review of the film, NME wrote: "McKay's political satire isn't always subtle – one scene shows Streep's leader whipping up a rally in a MAGA-style baseball cap – but it does feel horribly convincing.
"Though Don't Look Up loses some momentum towards the end of its 138-minute runtime, it still succeeds as both a raucous comedy and a grim cautionary tale. By the end, McKay has definitely driven home his message that Earth is ours for the saving."