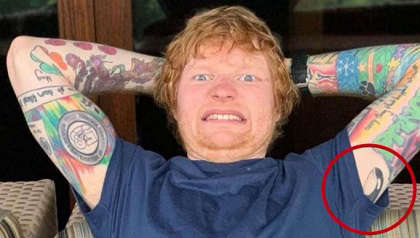 Ed Sheeran has revealed a cute tattoo that he got as a tribute for his baby daughter, Lyra.
"I got some vampire teeth on my shoulder for the video and an orca for Antarctica", Sheeran explained to the Irish Sun about his latest tattoo. It has been reported that Ed and his wife Cherry conceived their baby during a trip to the Antartica, hence why they named her Lyra Antarctica Seaborn Sheeran in honour of their love for the place.
You can check the photo of this tattoo in the photo.
"weirdest, most colourful"
Ed Sheeran has also explained what his tattoos represent might not be so obvious to many people.
"I am completely covered in the weirdest, most colourful tattoos and that is the thing no one can get their head around, apart from my wife", he said. "Everyone says I look like a melted crayon. But I love them. I love that any time something random happens, I put it on my body".
"I got some vampire teeth on my shoulder for the video and an orca for Antarctica".
Some of his other "weirdest, colourful tattoos" include a character called Pingu and a ketchup bottle.
Along with his quirky tattoos, Sheeran also dressed up as a vampire for his latest single "Bad Habits". This track also ensured Sheeran's tenth UK number one single.
However, that could be the final tattoo Ed gets, as he has little or no space left on his arms or chest.
"In my twenties, I would sit for 18 hours and just blitz it", he said.
Here's a reminder of the Ed as the vampire here.
His music career is certainly looking more prosperous.
"Bad Habits" is set to feature on Sheeran's upcoming album. While the singer has also co-written with Maisie Peters new song "Psycho" as well as BTs new track "Permission To Dance" which is out tomorrow.