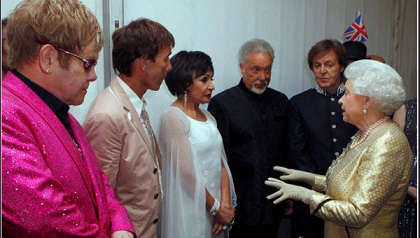 In a new tribute to the Queen, Elton John "fondly remembers" dancing with the late monarch at Windsor Castle.
Britain's longest serving monarch, Queen Elizabeth II passed away earlier this month aged 96, with her eldest son Charles becoming King Charles III. She was laid to rest at the King George Chapel at Windsor Castle, following a ten day period of mourning in the UK.
In a recent tribute to the Queen, Elton John shared images of himself meeting Her Majesty via Instagram, recalling how they danced together to the song 'Rock Around The Clock' at Windsor Castle.
"Today I'll be joining the rest of the world in remembering Her Majesty The Queen", the Tiny Dancer singer wrote. "My own memories of her are filled with joy and admiration. The Queen honoured me with a CBE, a knighthood and the Companion of Honour. I was lucky enough to perform at three of her Jubilees. They were always joyous and humbling experiences".
He added. "But it was the moments out of the public eye that I will most fondly remember her for; dancing together to 'Rock Around the Clock' at Windsor Castle or experiencing her great wit, warmth and humour first hand".
"She served with grace and dedication, and she will be sorely missed".