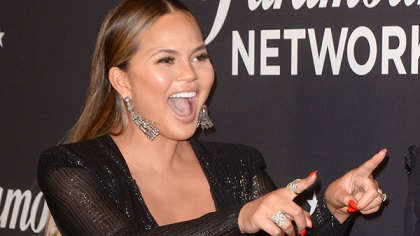 The US model and television personality, 35, is being called out by fans on social media for "failing to understand" the meaning behind the Netflix hit.
Chrissy Teigen has been heavily criticised on social media for throwing a Squid Game themed party for "rich friends". The US model and television personality has been labelled as "tone-deaf" for "failing to understand" the point of the show.
Teigen, 35, started to receive criticism from people online following a post of several images from her glamorous party. Chrissy, and her celebrity guests, dressed up as Squid Game characters, while imitating some of the lethal games featured in the show.
Teigen dressed as the red light, green light doll for the party, while her husband John Legend wore an animal mask and robe to become a VIP. The couple went all out with the party's theme, transforming their staircase, putting up a giant piggy bank and hiring servers dressed in the show's brightly coloured jumpsuits and masks.
The plot of this dystopian, South Korean series follows financially indebted players who wilfully participate in rounds of deadly children's games in a desperate bid to win a huge cash prize.
"My dream came true of watching my friends fight to the death! dunk tank, musical chairs, hide and seek followed by a very riveting final game of pin the tail on the donkey," Teigen wrote in the post.
The model received criticism for her "tone-deaf" approach, as one user commented; "Why do rich people always miss the whole entire point?".
Another said, "This is so beyond tone deaf as a millionaire to invite your rich friends over and re-enact squid games which is rooted in the violence of capitalism".
The outrage quickly spilled over onto other platforms as one Twitter user said; "I'm sorry rich people are literally so tone deaf. squid game was literally about people whose lives were so awful because of being poor that they'd rather play a game of literal life or death to escape going back to poverty and Chrissy Teigen is really re-enacting it in her mansion".
However, not all comments directed toward the model were negative as some fans shared their support for Teigen. One user wrote: "hey @chrissyteigen not everyone wants to hate on you for having fun and throwing a party! pretty sure LOTS of people threw squid game parties and dressed up for Halloween...keep your head up girl!"
Celebrities in attendance included Modern Family's Jesse Tyler Ferguson and Pretty Little Liars' Shay Mitchell, People reported. Pretty Little Liars' star Mitchell, 34, seemingly posted a series of pictures of herself and friends dressed as the green tracksuit players on Instagram with the words: "Squid Games come to life".