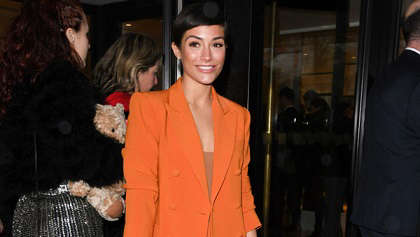 During the series launch, Frankie Bridge and Richard Madeley took part in the first I'm A Celebrity trial.
In a trial called Turrets of Terror, Saturdays singer Frankie Bridge and TV presenter Richard Madeley completed challenges while critters roamed down upon them, after they received the most votes from the public. This challenge took place on a three level structure built by Gwyrch Castle.
Frankie who is married to ex footballer Wayne Bridge, was also quickest to complete each challenge. This ensured a stay in the main camp with a bed for her newly formed red team. The yellow team spent the night with basic rations at "Castle Clink".
Check this out below.
The new series of this ITV show started with Emmerdale star Danny Miller, presenter Louise Minchin, music producer Naughty Boy and radio DJ Snoochie Shy all trying to walk down a wooden plank of 213 feet in the air above a quarry lake. They stamped on a button to make their opponent's platform drop.
Other celebrities David Ginola, Arlene Philips, Matty Lee and Kadeena Cox faced another challenge which involved unlocking two flare boxes. They were also required to place their arms into "hell holes" full of snakes, with Lee and Cox emerging victorious.
Danny Miller was also voted to take part in the second trial on tonight's installment of I'm A Celeb on ITV1 and Virgin Media tonight at 9-30 pm. Ant and Dec will confirm the second celebrity to take part in that trial in tonight's episode.