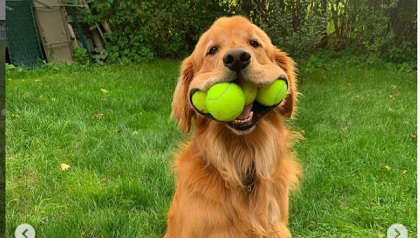 A Golden Retriever has broken the Guinness World Record for fitting the most tennis balls in his mouth in one setting.
The dog, aged 7 managed to fit an impressive 7 tennis balls in his mouth. This broke the previous record which was five, a record which has lasted for 17 years.
Finley, the Golden Retriever 's accomplishment has been officially noted, and will feature in the 2022 Guinness Book of Records.
"BIG NEWS! I can officially say that I am in the @guinnessworldrecords book for 2022!", the dog posted on Instagram.
He also added, "This of course wasn't easy, and certainly felt like forever and a day to accomplish!".
"Thank you to all my friends and fans who have been following my tennis ball journey since the beginning—was it worth the wait?".
"I haven't been active as much on social media lately, but don't fret, I'm still carrying tennis balls as you can see!".