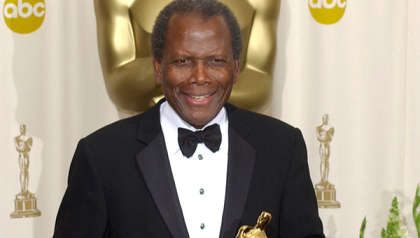 Sir Sidney Poitier, an actor who broke down racial barriers by becoming the first black man to win an Oscar for Best Actor in 1964 has died at the age of 94.
Poitier's death was confirmed yesterday afternoon by the Minister of Foreign Affaires for the Bahamas Fred Mitchell who said that he had lost a "personal friend".
"We've lost a great a Bahamian and I've lost a personal friend", he said.
While Deputy Prime Minister Chester Cooper added that he was "conflicted with great sadness and a sense of celebration when I learned of the passing of Sir Sidney Poitier".
Cooper continued, "Sadness that he would no longer be here to tell him how much he means to us, but celebration that he did so much to show the world that those from the humblest beginnings can change the world and that we gave him his flowers while he was with us".
Poitier is synonymous with starring in several barrier breaking films during an era where segregation was the norm in America. 1967 saw him star in "Guess Who's Coming To Dinner" where he played a black man who was engaged to be married to a white woman.
In the same year, Poitier starred in "In The Heat of the Night" where he portrayed a police offiicer coming face to face with racism during a murder investigation. He also starred as a teacher in a tough London school in "To Sir With Love".
Poitier had already made history three years earlier, by becoming the first black man to win an Oscar for Best Actor in "Lillies of the Field". He played a handyman Mr Tibbs who helped German nuns build a chapel in the desert.
In these roles, Poitier helped to eschew the stereotype that black actors could only have demeaning roles in films, such as maids or shoe shiners.
Overall, Sidney Poitier acted in over 50 films and also directed nine, which began in 1972 with "Buck and the Preacher". He also worked on several films with friends Bill Cosby and Harry Belafonte.
1974 saw Poitier receive a Knighthood from Queen Elizabeth II. He also served as an ambassador for the Bahamas in Japan, UNESCO and the UN Cultural Agency.
He won the Lifetime Achievement Award in 1992, adding his name to a list of recipients including Orson Welles, Alfred Hitchcock, Bette Davis, James Cagney and Fred Astaire.
Following news of his death, several household names have paid tribute to a true icon.
Sidney Poitier, the first Black man to win an Oscar, has died at the age of 94. The star of "Guess Who's Coming To Dinner" and "Lilies of the Field," for which he won Best Actor, was a trailblazer who will be mourned by so many for whom he opened the very doors of Hollywood.

— George Takei (@GeorgeTakei) January 7, 2022
If you wanted the sky i would write across the sky in letters that would soar a thousand feet high..
To Sir… with Love
Sir Sidney Poitier R.I.P.
He showed us how to reach for the stars

— Whoopi Goldberg (@WhoopiGoldberg) January 7, 2022
Sidney Poitier. An absolute legend. One of the greats. pic.twitter.com/jd2Xd7vmIJ

— Joseph Gordon-Levitt (@hitRECordJoe) January 7, 2022