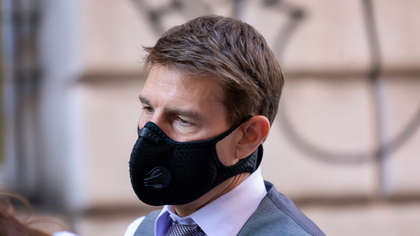 Rumours are circulating that Tom Cruise may be leaving the Church of Scientology.
As its most high profile member, the Top Gun star has long been the jewel in the crown of the controversial church. But could Cruise be about to walk away from the church?
Cruise joined Scientology in 1990 after being introduced to the church by his first wife, actress Mimi Rogers. The church's figurehead, David Miscavige, was best man at the actor's wedding to actress Katie Holmes in 2006.
Rumours of a rift between Cruise and the church have been sparked by the actor's decision to stay away from the British headquarters of Scientology at Saint Hill Manor, East Grinstead.
Cruise has previously based himself at the HQ while filming in the UK, but has kept his distance during the duration of the British shoot of the latest instalment of the Mission Impossible franchise.
Instead, Cruise has divided his time in England between an apartment in Knightsbridge and a home in rural Kent close to Biggin Hill airport, where his private jet is stationed.
Speculation has mounted that Cruise is at loggerheads with Scientology over the Church's attitude to COVID-19. While it's believed that the church operates an anti-vaccination stance, Cruise has publicly been taking the pandemic very seriously. Last year footage leaked of the actor admonishing crew members with an expletive laden rant for not taking COVID-19 regulations seriously enough on the set of Mission Impossible 7. Several crew members quit in the wake of his tirade.
Along with starring in the movie, Cruise is a producer on the latest Mission Impossible, which has lead to him carrying much of the pressure spawned by its many setbacks.
Speaking to The Sun, a source from the set said "Tom appears extremely withdrawn at the moment - he's really keeping ¬himself to himself, but something seems to have changed. He's obviously under a great deal of pressure with this film and the studio are now getting on the case because things are so delayed and apparently over-budget. It isn't really anyone's fault and Tom has a long history of making incredible films that more than justify the big costs, but there's no doubt things are weighing on his shoulders just now."
The same source speculated on Cruise's possibly fractured relationship with Scientology.
"He has the helicopter so he can go anywhere very quickly, but he hasn't been to East Grinstead at all. A number of us wonder if the COVID situation and his religious beliefs are pulling him in different directions with so much pressure in¬volved in getting this film finished," they mused.
Filming on Mission Impossible 7 has been hampered by several outbreaks of COVID-19, with such delays causing the budget to swell. A set-piece involving a train crash is now believed to have been cut from the film to keep the budget down. Last summer a fire scuppered an action scene that had taken six weeks to prepare.
Despite approaching his 60th birthday next year, Cruise has doubled down on his status as an action star in recent years. The Mission Impossible franchise has seen him perform dangerous stunts, such as dangling from the Dubai skyscraper the Burj Khalifa for 2011's Mission Impossible: Ghost Protocol; strapping himself to a plane as it left the ground for 2015's Mission Impossible: Rogue Nation; and performing a High Altitude, Low Opening "HALO" parachute jump for the most recent instalment, 2018's Mission Impossible: Fallout. For the upcoming seventh chapter, Cruise performed a stunt that saw him ride a motorcycle off a Norwegian cliff before descending via parachute to the valley below.
Assuming its filming finally gets completed, Mission Impossible 7 is scheduled for a summer 2022 release. Cruise returns to the big screen this Christmas for Top Gun: Maverick, a belated sequel to the 1986 blockbuster that cemented his stardom.