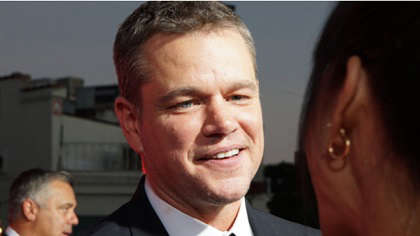 Actor, Matt Damon jokes he 'knows everyone' in the 'beautiful', Irish town of Dalkey after lockdown
Ireland's adopted son, Matt Damon has become Mr Popular in the Emerald Isle ever since his Dalkey residency during lockdown. Speaking to Evoke, Matt revealed he and his family decided to stay here after a family decision was made.
"We had never spent any real time there. So, we took a family vote and we decided to stay,' he explains ahead of the release of his new film, The Last Duel which was filmed in part in Ireland. We had the best time. Our movie shut down the day we got to Ireland. So, we had a choice to go home to America, or stay there."
The remaining cast members, including his good friend Ben Affleck, Killing Eve's Jodie Comer, and Star Wars actor, Adam Driver, all returned home. However, Matt and his family resided in Ireland for lockdown, with the Bourne actor joking, "We took over the community of glamorous gaffes to make our own little village.
"All these guys had rented beautiful houses for like three months that they abandoned because they all went home. We took them all over and turned one into a school. We were free roaming in this Irish town for three months. The community absorbed us in this really beautiful way. We know everyone there; it was a small town!"
Matt can be forgiven for thinking Dalkey as a "small town", especially since the Hollywood actor is used to skyscrapers and highways. Pal, Ben Affleck is also very sentimental when it comes to Ireland as the actor gushes over how "wonderful and beautiful" the country is.
"The people were lovely. It was mitigated only by the fact we were in a pandemic. We got to shoot and had to be immediately wrapped in your sarcophagus and separated. That's just an added hurdle. Ireland itself was a magical, lovely place. Like many people from Boston, I had grown up hearing that I was Irish, although I'd never been to Ireland. It's an incredible place."
Ben and Matt joined forces to co-write the script for a medieval story based on the real-life events of France' last sanctioned duel between Jean de Carrouges and Jacques Le Gris. According to reports, the three-act story follows Carrouges' wife, Marguerite's fight for truth after she is viciously assaulted by Le Gris, a charge he denies. In an act of bravery and defiance that puts her life in jeopardy, she refuses to stay silent and comes forward to accuse her attacker.