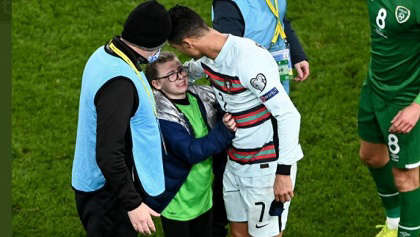 While he was most probablity a little frustrated with the final score in his country's clash against Rep of Ireland last night, Portugal's Cristiano Ronaldo still showed his class and brought tears of joy to one young lucky fan at the final whistle.
The match itself finished 0-0 with Ronaldo having unchracteristically headed a presentable chance wide towards the end, while Matt Doherty had a goal somewhat harshly chalked off for Ireland for a alleged foul on the Portugal goalkeeper Rui Patricio by Ireland's Will Keane in the build up.
Having spent most of the game beeing booed by the Irish fans, CR7 showed his class by giving his shirt to an understably tearful Irish fan after the match, who is a footballer herself playing for Shelbourne's Under 13 side.
The Dublin club reacted via their Twitter account.
Shelbourne U13 player Addison Whelan gets Ronaldo's jersey 😍#RedsTogether | #Since1895 pic.twitter.com/YgOp9f4ihF

— Shelbourne FC (@shelsfc) November 11, 2021
Meanwhile, fans were also quick to heap the praise on the Manchester United ace. Check out some of the reaction below.
What a legend. So is Ronaldo

— Gav  (@G7SEV) November 11, 2021
Class moment and people accuse ronaldo of being arrogant and having a huge ego. Showing here what real legends do.

— Stating the Obvious (@the_stating) November 11, 2021
Class act that from Ronaldo giving that wee girl his jersey. #IRLPOR #Ronaldo

— Liam Maguire (@Strabane_Tyrone) November 11, 2021
Comedy star Rorys Stories also added this.
Only in Ireland would we pay good money to go see one of the greatest sports stars of all time in the flesh, on a dirty wet Thursday evening, when tickets are tough to get... and boo the man everytime he's involved in the play 🤷‍♂️ #Ronaldo #IREVPOR

— Rory's Stories (@RorysStories) November 11, 2021