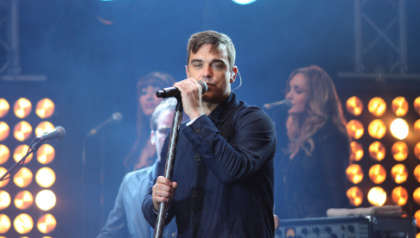 Robbie Williams has explained why he did not consult Gary Barlow about his new Nextflix documentary.
Williams who formed part of the boyband Take That alongside Gary Barlow, Howard Donald, Mark Owen, and Jason Orange, has just released a new documentary, delving into his career, relationships, as well as struggles with mental health.
The first episode of this four part series sees Williams speak about his relationship with Barlow when the pair were in their late teens, where he revealed that he had to contend with "an assurance about Gaz and his ability mixed with a coldness".
"It seemed like there was one person being managed in Take That, and it was Gary Barlow. It was all geared around him and, as young person, I would have been jealous of that. I suppose a lot of me resented him", Williams added.
Elsewhere, Robbie Williams also admitted that he did not consult with Barlow about this documentary.
"Legally I didn't have to", the singer stated.
He did admit that he had previously spoken with Barlow about making a biopic.
"I've had to have chats there, yeah, and they are uncomfortable", Williams said. "Needless to say, when the biopic was being [discussed], there were several c***s in that film. Now there's only one – it's me".
Robbie Williams quit Take That in 1995, admitting in a previous interview that he left because he thought he "was in the middle of a nervous breakdown".