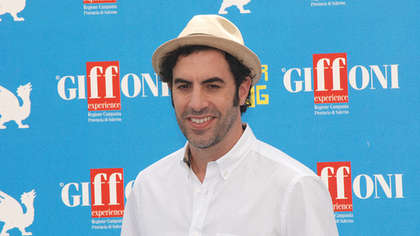 Sacha Baron Cohen is taking legal action against a US based cannabis dispensary which used an image of his character Borat without permission.
The British comic star is said to be seeking $9 million in damages, according to a lawsuit filed in Massachusetts.
The American company, Solar Therapeutics, have been accused of copyright infringement by the 49-year-old actor. Allegedly the company used an image of Baron Cohen as Borat on a roadside billboard on a busy interstate highway in Massachusetts, along with the character's catchphrase of "It's nice!" The billboard was promoting Solar Sustainable Cannabis.
Upon learning of the billboard, Baron Cohen's lawyer sent a cease and desist letter to Solar Therapeutics. The company removed the billboard but refused to pay any compensation to Baron Cohen for their use of his image. Baron Cohen's lawyer described Solar Therapeutics' cheeky action as "a gamble," with the company naively believing the actor wouldn't learn about the billboard.
Cohen is said to be particularly upset that his image is being used to promote cannabis. The lawsuit states that the actor "has never used cannabis in his life" and that he would never take part in an advertising campaign for the drug "for any amount of money."
The lawsuit highlights how Baron Cohen has "never been involved in advertising any commercial products or services (in the U.K. or U.S.)… despite countless opportunities to do so."
According to the lawsuit, Baron Cohen believes cannabis is not a "healthy choice" and that he has consistently turned down opportunities to promote various products as he believes doing so would "weaken his credibility as an actor and a serious social activist." Citing an example, the lawsuit mentions how Baron Cohen once turned down a fee of $4 million to appear in a car commercial. The lawsuit describes the actor as being "highly protective" of his image.
"Cannabis remains a controversial product that Mr Baron Cohen has no interest in endorsing, promoting or advertising," the lawsuit states. "In addition, Mr Baron Cohen was born into an Orthodox Jewish family; he is an observant Jew; and he is proud of his cultural heritage. He does not wish to be involved in the heated controversy among the Orthodox Jewish community about whether cannabis can be used under Jewish traditions, customs, and rules."
The lawsuit cites Baron Cohen's Ali G character as an example of his disapproval of cannabis use. "With his 'Ali G' character, portrayed by Mr. Baron Cohen in the HBO television series Da Ali G Show, Mr. Baron Cohen has spent much of his career making a mockery of 'stoner' culture – a culture which the Defendants' Billboard overtly celebrates."
The use of cannabis for both medical and recreational purposes is legal in the state of Massachusetts.
Solar Therapeutics have yet to respond to the lawsuit.
Baron Cohen sparked a cannabis controversy back in 2000 when he interviewed Tory MP Neil Hamilton. While in his Ali G guise, Baron Cohen offered the politician a cannabis joint, which the MP duly smoked.
The actor has long been the subject of controversy himself, with many accusing him of racism and xenophobia for his lampooning of British Asians as Ali G and Kazakhs as Borat. In 2005 the Kazakhstan government threatened him with legal action for falsely registering a website using the country's .kz internet domain code. However, they softened their stance following the success of the first Borat movie, which increased the tourist profile of the nation. That movie also saw a lawsuit brought against Baron Cohen for allegedly duping three American students into signing a release form. That lawsuit was subsequently thrown out of court.
Baron Cohen is currently the subject of an ongoing $95 million lawsuit filed by one-time Alabama Senate candidate Roy Moore, who accuses the actor of falsely portraying him as a paedophile in a segment of Baron Cohen's show Who Is America?