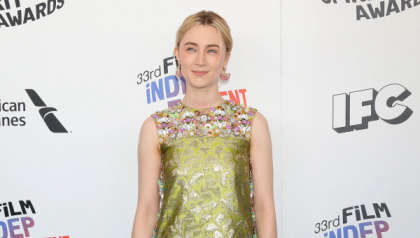 Saoirse Ronan has paid tribute to the late Sinéad O'Connor, having spoken about the sense of pride that she feels in other Irish women in the world of showbusiness.
The four time Oscar nominee was speaking in a recent interview, where she paid tribute to such strong women from the entertainment world, including Sinéad O'Connor. The 'Nothing Compares 2 U' hitmaker passed aged aged 56 back in July.
She also insisted that she does not take for granted that she herself comes from "incredible stock", which includes Catastrophe star Sharon Horgan.
"Think of Sinéad (O'Connor), or Sharon (Horgan), everyone who was around in the 70s, 80s and 90s, who just didn't give a f*** and moved away from the template that had been set", Ronan said. "There's been a lot to overcome for all women, but I think in a country like Ireland, where there was such ownership over us in every sense, physically, emotionally, spiritually, financially, how unbelievably brave".
"What incredible stock to come from", she continued. "I don't take that for granted at all".
Saoirse Ronan went on to speak about the power of sisterhood, "When you've got other women in your corner, they will defend you like nothing else".
She continued, "If you have that - which I've always had from my mother - you carry it with you your whole life".
"modern and funny"
Elsewhere in the interview, Saoirse Ronan spoke about her future plans for her career.
Following a stint of films such as Atonement, The Lovely Bones, Ammonite, and Brooklyn, to name a few, the actress is ready for more comedic roles, willing to add further strings to her bow.
"I would love to do something modern and funny. But to be able to do comedy well requires so much skill and musicality", she said. "I don't necessarily think I have that yet - although as I've got older, I am more comfortable and confident to try".
Ronan continued, "As an actor, if you've worked your way up and had quite a well-rounded experience, you'll have played minor roles and played leads".
"You'll have been treated really well; you'll have been treated like s***", she added. "You'll have been used; you'll have been taken care of. I think there's a real humility that comes with that".
On top of that, the actress also added that she would love to direct her own film one day.
She revealed, "And while, yes, you have to be a leader, actually for the best results, you have to bend towards your actors - adjust to them and make them feel they can do anything".