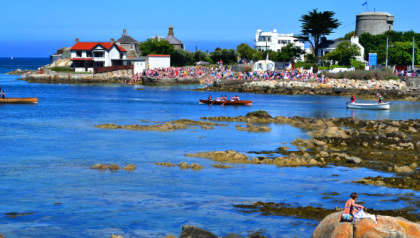 A Status Yellow warning has been put in place for Ireland, with temperatures expected to reach heights of 28C today.
According to Met Éireann, the weather is to be humid and warm for today and tomorrow, with temperatures to hit 27C in many areas across the country. The warning was put in place by the national forecaster, taking effect from 8am today.
Sunny spells are expected for most of the country, with temperatures hitting between 24 and 28 degrees, according to today's forecast.
Along with the hot weather, showers are also expected for the southwest , spreading over Leinster. These showers are also expected to get heavy at times, with thunderstorms, and spot flooding possible, especially in the east.
Met Éireann have also warned of heat stress, and uncomfortable sleeping conditions for many, along with a risk of water-related incidents.
Elsewhere, Met Éireann have also warned that pollen levels are to be high today and tomorrow, with the UV index to be moderate.
People have also been urged to conserve water, with demand increasing during warm weather, according to Uisce Éireann. The company have stated that water use can increase by up to 20 litres a day in the Dublin region alone, but they also added that there are no current plans to introduce water restrictions.
Today will be very warm, highs of 24 to 28 degrees🌡️

Dry in most areas this morning with sunny spells🌥️

However, showers will develop in the southeast & spread northwards over Leinster, some heavy with thunderstorms & spot flooding possible, especially in the east🌦️⛈️🌊 pic.twitter.com/CDEAt5534q

— Met Éireann (@MetEireann) September 7, 2023