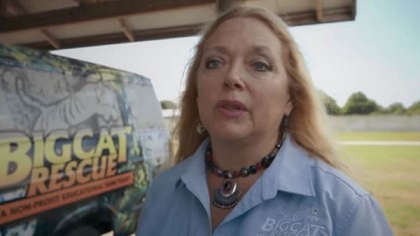 Joe Exotic's nemesis accuses streaming giant of breach of contract for using footage of her and husband in trailer for second series.
Terrible news for cringe bingers worldwide as season two of the outrageous Netflix documentary, Tiger King may be in doubt. Big cat rights activist – and sworn enemy of Joe Exotic, Carole Baskin, is suing the streaming giant for using footage of her in the upcoming season.
Featuring in the first series, the CEO of Big Cat Rescue was an arch-rival to Exotic, who was found guilty of hiring a hitman to kill her. However, Baskin did not give permission for production company, Royal Goode Productions to use footage of her for season 2.
Baskin has in turn filed a lawsuit against Netflix, alleging that the terms of their contract have been broken. Footage of her and her husband has been used in the show's second series, something which Baskin claims she did not agree to.
The suit, seen by Variety, says: "By utilizing the film footage of the Baskins and Big Cat Rescue secured by Royal Goode Productions under the Appearance Releases in 'sizzle reels' and promotional trailers for the sequel entitled 'Tiger King 2', the defendants are in breach of the terms of the Appearance Releases."
Basking and her husband have requested for all footage of them to be removed from the upcoming season, due to air on Netflix, November 17th. Further claims state the show had been misleading in how it depicted Big Cat Rescue, with the suggestive narrative of her being somehow involved in her husband's disappearance in 1997 – which she strongly denies.
The show's protagonist, Joe Exotic, is currently serving a 22-year sentence in Texas after being found guilty of various federal charges including animal mistreatment and attempted murder. Exotic has launched an appeal against the sentence.