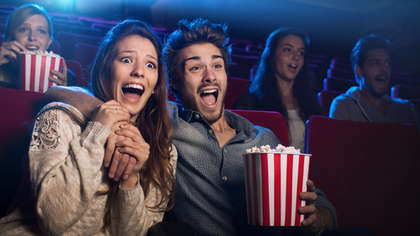 Here's our guide to the new movies opening in Irish cinemas and on home entertainment platforms this week:
Blood Red Sky [Netflix]
Terrorists hijack a transatlantic flight, unaware that one of the passengers is a bloodthirsty vampire in this German horror.
Bye Bye Morons [Curzon Home Cinema]
In this French language comedy a mother hires a nerdy hacker to track down her son. What she doesn't realise is that the hacker is being pursued by law enforcement agencies across Europe.
Chernobyl 1986 [Netflix]
In 1986, a Ukrainian firefighter retires. But when disaster strikes at the Chernobyl nuclear power planet, he's called back into action.
Dirt Music [VOD]
Adapted from Tim Winton's novel, this romantic thriller stars Kelly Macdonald as a former nurse dogged by alcoholism and trapped in a loveless relationship. When she starts an affair with a poacher she finds redemption.
Every Breath You Take [Sky Cinema]
When psychiatrist Casey Affleck loses a female patient to suicide, the woman's brother (Sam Claflin) holds him responsible and wages a campaign of terror against his family.
Giddy Stratospheres [VOD]
Writer/director Laura Jean Marsh stars in this tale set amid the UK music scene of the 2000s. She plays a young woman whose hard-partying ways threaten to derail her life.
The God Committee [VOD]
Five doctors convene to decide which of three patients will receive the donor heart that just arrived at their New York hospital. Frasier's Kelsey Grammar steps away from comedy for this ethical dilemma drama.
I Never Cry [Cinemas/VOD]
A teenage girl from Poland travels to Dublin to claim the body of her father, who died while working on a construction site. There she must contend with Irish bureaucracy while learning about her late father from his friends.
Jolt [Amazon]
In what sounds like a riff on the Jason Statham action flick Crank, Jolt stars Kate Beckinsale as a woman who requires jolts of electricity to keep her murderous impulses under control. When she becomes the prime suspect in her boyfriend's murder, she sets out to find the real killers.
Kandisha [Shudder]
This French horror movie draws from the Moroccan folk legend of Aicha Kandisha, the spirit of a woman who claims six male victims when summoned. Here, Kandisha finds herself causing havoc on a Parisian tower block when three teenage girls unwittingly summon her.
Night of the Kings [Cinemas]
A new arrival at a prison in the Ivory Coast is tasked with telling a story to his fellow inmates. His storytelling skills may determine whether he makes it to the next morning alive.
Off the Rails [Cinemas]
Four fifty-something friends take off on an inter-railing trip across Europe in a bid to recreate their youth.
Old [Cinemas]
In the latest chiller from director M. Night Shyamalan (The Sixth Sense), a family's beach trip turns sinister when they begin to age rapidly. Trapped on the beach by some unseen force, they must figure out a way to halt their predicament.
Out of Death [VOD]
Bruce Willis plays a retired cop who comes to the aid of a woman stalked through the woods by a pair of crooked cops.
Riders of Justice [Cinemas/VOD]
Mads Mikkelsen stars in this blackly comic Danish thriller. When his wife dies in a train crash, a soldier is approached by a data analyst who believes the crash was rigged on purpose.
Werewolves Within [VOD]
Based on a video game from the 1990s, this horror-comedy sees the residents of a small town attempt to figure out who among them is the werewolf that has been stalking the locale.
The World to Come [Cinemas]
On the lonely 19th century American frontier, two housewives (Katherine Waterston, Vanessa Kirby) become good friends. But soon their relationship progresses beyond mere friendship.