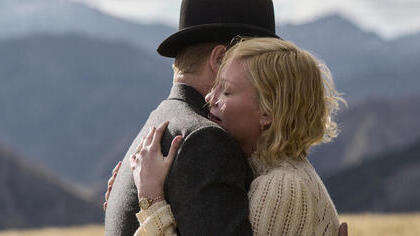 Here's our guide to the new movies opening in Irish cinemas and on Home Entertainment platforms this week.
The Advent Calendar [Shudder]
In this French horror, a paraplegic woman receives a gift of an advent calendar that grants her wishes. Restoring the use of her legs, she discovers her wishes have a cost for those around her.
Blue Bayou [Cinemas]
A Korean adopted as a child by American foster parents builds a life for himself in Louisiana. His world is shattered upon learning he could be deported.
Boxing Day [Cinemas]
A British writer living in the US returns home to London for Christmas with his American wife. Once home he begins to rekindle a romance with an old lover played by Little Mix's Leigh-Anne Pinnock.
C'Mon C'Mon [Cinemas]
Joaquin Phoenix plays a radio journalist who finds himself saddled with his young nephew. As the pair embark on a working tour of the US, they begin to bond.
Coming Home in the Dark [Netflix]
In this thriller from New Zealand, a teacher is forced to confront his dark past when his family are taken hostage by drifters.
Final Account [Cinemas]
Documentary speaks to some of the last surviving Germans who were alive during the Holocaust as they confront their actions or lack of action in that shameful era for their nation.
The Hand of God [Cinemas]
Director Paolo Sorrentino draws on his teenage years in Naples for this semi-autobiographical drama. A young man's life is changed when his life is saved by legendary footballer Diego Maradona.
The Last Matinee [Arrow]
Slasher movie from Uruguay pays tribute to horror movies of the 1980s. A student manning her family cinema's projection room fights for her life when a hooded killer begins massacring her patrons.
Mixtape [Netflix]
A 12-year-old girls discovers a mixtape made by her late parents. Through the songs she begins to learn about their lives.
The Power of the Dog [Netflix]
Acclaimed director Jane Campion helms this western melodrama that's been tipped for awards success. Benedict Cumberbatch is a ruthless rancher who becomes increasingly cruel when his brother marries a woman he believes is a gold-digger.
Resident Evil: Welcome to Raccoon City [Cinemas]
The long-running Resident Evil series gets a reboot. Taking the first two instalments of the original video game series as inspiration, Resident Evil: Welcome to Raccoon City details the first zombie outbreak in the titular town.
Silent Night [Cinemas]
Keira Knightley stars in this blackly comic horror movie. With the end of the world looming, a family gathers for one final Christmas.
Single All the Way [Netflix]
A gay man asks his best friend to pose as his boyfriend on a trip home for Christmas, and wouldn't you know it, the two fall for one another.
There Is No Evil [VOD]
This Iranian movie was banned in its native country. A critique of Iran's ongoing policy of capital punishment, the film tells four stories of people whose lives have been affected by the death sentence.
The Whole Truth [Netflix]
When a pair of siblings come across a mysterious hole in the home of their grandparents' house, they discover their family's dark, hidden secrets.