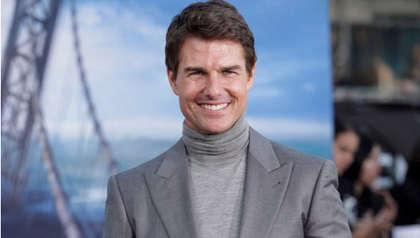 Tom Cruise received an Honourary Palme d'Or, as Top Gun: Maverick was premiered at the Cannes Film Festival yesterday.
The film was scheduled to air at the festival in 2020, but was cancelled due to the pandemic. Despite the release of the film being cancelled several times, Tom Cruise insisted that the thought of streaming the movie on a platform had never crossed his mind. He insisted that it was worth waiting for cinemas to reopen.
"That was not going to happen, ever", he stated emphatically. "Look at us all together, we're all united, we all speak different languages, different cultures... but we're able to come together around a shared experience," he said of his love for movie theatres".
Cruise added, "Cinema is my love, my passion. I always go to movies when they come out. I'll put my cap on and sit in the audience with everyone. I've spent a lot of time with theatre owners".
Check out the trailer below.
Cruise also received his award just before the screening began. Introduced in 1955, the Palme d'Or is the highest honour that the Cannes Film Festival can bestow. Previous winners also include Jane Campion and Pulp Fiction's Quentin Tarantino.
The actor who has become an ambassador for cinemas, hopes to play a key part in theie return, with Top Gun: Maverick arriving next week, and two Mission Impossible films due to be released in 2023 and 2024.
"I go to cinemas and there's people there who are serving the popcorn and running these theatres. I tell them: 'I know what you're going through, just know we're making Mission: Impossible, Top Gun is coming out...", Cruise said.