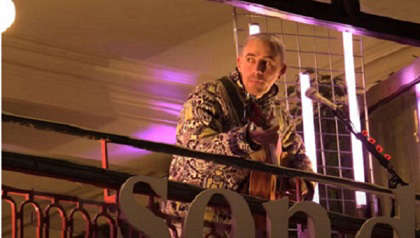 Dermot Kennedy stunned the locals of Dublin's Grafton Street with an impromptu live performance, which saw the singer go back to his busking roots.
Bring the entire street to a standstill, the Giants singer who recently released his latest album 'Sonder', stood on the balcony of Bewleys for his live performance, which was also live streamed via his Instagram feed.
This concert was performed by the singer in aid of Barretstown, a children's charity offering free, medically endorsed therapeutic recreation camps and programmes for children and their families living with serious illnesses. A charity which Kennedy also urged his fans to donate to.
"Some people just don't have their cards dealt to them and so we should help if we can", Kennedy told the audience. There's so many of us here so let's raise a tonne of money for them".
Encouraging donations, Kennedy added, "Sure while I have you while your phones are out, can you donate. Just send PressPlay to 50300".
"If you have four euro to spare, it genuinely makes a difference".
That was something I will NEVER forget. My hometown and my heart ♥️ once in a lifetime feeling X pic.twitter.com/qUsuMIPrjt

— Dermot Kennedy (@DermotKennedy) November 22, 2022
Kennedy was also full of praise for the fans, who had packed the streets to hear his impromptu show.
"I don't think there's many places in the world that we could do this with so many people", he said. "The fact that everyone's here being generally sound and looking after one another is not normal. So thank you".
The singer also called on the crowd to flash their lights from their phones for one of his last songs, 'Something For Someone'.
"Sing it and when you do, remember that no matter how lost you feel, you do mean a lot to someone. At least one person cares about you", Kennedy told them.
Before he left the balcony, Kennedy also added, "I just want to say songs old and new, you've been supporting me from the start so thank you so much".
Dermot Kennedy recently released his much anticipated album 'Sonder' via Island Records/Interscope.
Sonder — the realisation that each passerby is living a life as vivid and complex as your own. My second studio album is out now everywhere ♥️https://t.co/DVxuS8hgBw pic.twitter.com/7mRqTncpDl

— Dermot Kennedy (@DermotKennedy) November 18, 2022
The singer's latest single is 'Kiss Me'.
Check it out below.