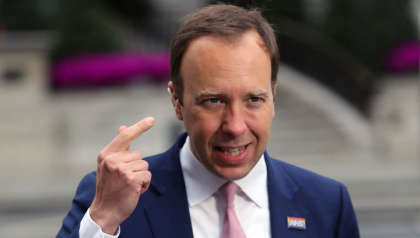 The gift that keeps on giving that is Matt Hancock was at it again, as he sang 'I Want To Break Free', on a karoeke session in the latest episode of 'I'm A Celebrity......Get Me Outta Here!'.
The former Health Secretary sang the famous Queen track during the episode, leaving his fellow campmates wondering if he was "trying to tell us something", as they chilled at the Jungle Arms Pub last night.
The campmates were served with alcoholic drinks, pizza and twiglets, before each contestant took to the stage for a karoeke performance, where Hancock was praised for "going for it" with his rendition of the Queen hit.
Following his performance, Matt Hancock spoke to the Bush Telegraph about his excurisons, "I'm a massive Queen fan but I could have sung any one equally badly but that was brilliant".
😭😭😭 #ImACeleb pic.twitter.com/pArI2xZyP4

— I'm A Celebrity... (@imacelebrity) November 22, 2022
Reacting to Hancock's performance, comedian Sean Walsh wondered if he was "trying to tell us something".
While Soap star Owen Warner added, "Whatever you've got to say about Matt Hancock, he absolutely went for it tonight and absolutely loved it, everyone went for it".
Not all campmates were impressed by Hancock's performance, with comedian Babutunde Aleshe commenting, "Lord have mercy, what was Matt doing?".
Boy George became the fourth contestant to be voted off the show, having also delivered a rendition of his band Culture Club's hit 'Karma Chameleon', with former England international footballer Jill Scott performing Black Eyed Peas track 'Where Is The Love?'.