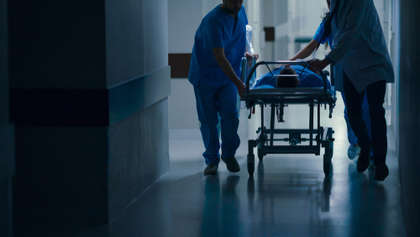 Irish hospitals have seen record levels of attendance at their emergency departments in the last week.
The HSE reports 28,000 patients attending emergency departments last week with an average daily trolley count of 333.
HSE Chief Operations Officer Anne O'Connor said she hopes the record numbers are a temporary issue caused by a late winter surge. She said that many of those attending EDs were older, frail patients who required longer stays in hospital, which is leading to pressure on bed numbers.
O'Connor believes many people may have avoided attending hospitals during the peak of the pandemic and are now seeking treatments they previously put off.
Some hospitals have reported having to postpone procedures due to the extra pressure they're experiencing.
Yesterday Dublin's Mater Hospital urged people not to attend its ED unless absolutely necessary.
In a statement, the hospital said it was experiencing "significant pressure due to a combination of high presentations at the ED, and an increased number of Covid positive patients in the hospital, as well as staff who cannot come to work due to contracting Covid or being a close contact."
People with non-emergency conditions were advised to attend their GP or minor injury units. Those with appointments were told to attend as normal.