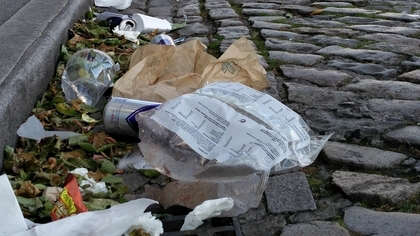 A survey on litter in Ireland has found most of the country's towns are cleaner now than last year, but in cities the problem is growing.
Irish Business Against Litter (IBAL) surveyed 40 areas, finding 68% of towns were less littered than 12 months ago.
Portlaoise was named the cleanest of the 40 areas, having been the most littered town in the 2010 survey. An Taisce praised the town's turnaround as the result of "years of concerted effort and steady improvement."
23 of Ireland's towns and cities were found to be cleaner than the European average.
The city centres of Dublin, Cork and Limerick were all found to be littered. The only urban areas to show an improvement on last year were Galway and Dublin's Ballymun and Tallaght.
The only area found to be a "litter blackspot" was Dublin's North inner city. An Taisce surveyed 25 sites in the area, finding 17 of them to be "heavily littered" or worse.
"For cities, this survey paints a bleak picture," said IBAL's Conor Horgan. "Litter levels have worsened to a level we have not seen in the past ten years. Now that we have emerged from lockdown, we cannot use it as an excuse for high levels of litter. As we invest in promotional drives and build city hotels in anticipation of more visitors, we need to be mindful of the littered environment we are presenting to them."
The survey found a 30% increase in the amount of discarded masks.
"The need for PPE has not abated – unfortunately, we're still using disposable masks, we're still dropping them at an alarming rate and they are still not being picked up," Horgan said.