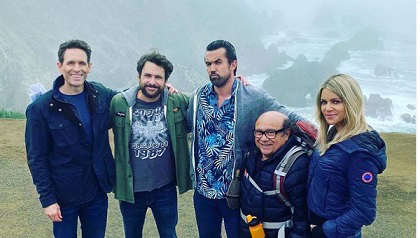 Fans of the hit sitcom Always Funny In Philadelphia are now convinced that cast members have started filming in a location in Ireland.
Stars of the sitcom, including Danny De Vito, Rob McElhenney, Katlin Olson, Charlie Day and Glenn Howerton have been spotted hanging around some familiar Irish cliffs. Some of these stars posted photos on their Instagram accounts.
Captioning a photo with a shamrock emoji, McElhenny posted this.
Kaitlin Olson posted several photos online, writing "#Location shoot. Don't scroll to the end if you don't want to jizz all over your office desk. 💦☘️ @alwayssunnyfxx #season15".
Fans have been speculating
Following these photos, fans have been playing a guessing game, trying to ascertain where the cast members might be.
"Cliffs of Moher?", one fan guessed.
While another suggested, "Donegal? Kerry? Definitely the Wild Atlantic Way".
Another fan also added, "Location shoot? I'm honestly curious where the gang is heading to this season".
This comes after an advert appeared on MovieExtras.ie last month looking for a body double for Danny De Vito for filming in Ireland.
The ad read, "It's Always Sunny in Philadelphia are coming to Ireland! And we need a Danny DeVito Double. Shooting is this Sunday 29th Aug and the location is Dublin".