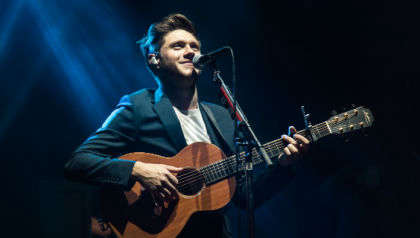 Niall Horan has shared a new music video for his latest single 'Heaven'.
The track features on the Irish singer's third studio album 'The Show', which arrives on June 9.
Niall Horan confirmed the forthcoming release of this album earlier this month via social media.
"I couldn't possibly be more happy to tell you that my new album 'The Show' will be released on June 9th", he said. "This album is a piece of work I'm so proud of and now it's time to pass it over to you to go and make it your own. Thank you so much for being there for me all this time and I can't wait to share the next couple of years of this new era with you".
"I've missed you all so much. It's good to be back. Welcome to 'The Show'".
Horan later described this track as "by far and away my favourite stuff I've ever worked on".
Recorded in Southern California, the track was written by Horan, alongside Joel Little and John Ryan, as well as being produced by the former One Direction singer.
The video itself certainly evokes the charisma and energy of Horan, who is spotted in the video performing alongside musician Emilia Schmier.
"One thing I've learned over the years is that society loves to pressure us into reaching certain milestones by a certain age. Whether that's getting married or anything else that really should be based on our own instincts. As I've gotten older I've tried to let go of those expectations and just follow my heart. The chorus of this song is saying that what I have in my life currently is amazing. So it would be crazy to ruin that by giving into outside pressures", Horan said.