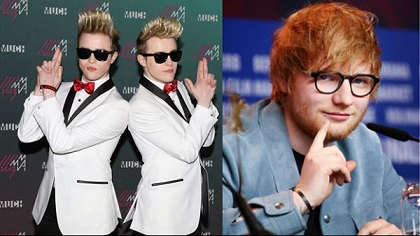 The x, =, + hitmaker once turned down the Beatles legend to hang out with the twins instead
Bad Habits singer, Ed Sheeran has sensationally revealed he once considered changing his stage name to Redward, before Lipstick twins Jedward shot to fame. In reference to his hair colour and name, Ed thought Redward would look better on posters than his actual name.
"When I was like 16, 17 or maybe it was 18, I considered changing it to Redward. And then Jedward came on X Factor and I was like I'm so happy I didn't."
The A Team singer sprung up a random friendship with Lucan brothers, John and Edward Grimes, when he drove passed by them in Vancouver, 2014. Recounting the experience to the Off Menu podcast, Ed explains that he spotted those iconic, blonde quiffs.
"I rolled down my window, I was like 'Jedward,' and then I picked them up and took them to my hotel room. And then instantly I was like 'oh f***, what have I let myself in for' 'cause they were going on Google and showing me signed Justin Timberlake CDs.
"And they were like 'we're going to order this one and we're going to order this one too. What do you think about this, Ed?' And I was like, 'guys, I need a sleep', so I went to my room and fell asleep, and then they left - and I didn't see them again for a while."
When the gang got together again, Ed amazingly passed on Beatles multi-instrumentalist, singer, and songwriter – Paul McCartney. Receiving a special painting for his daughter Lyra's nursery - and turning down the chance to hang with the Hey Jude singer after a Beatles event, indicates Ed's fondness of the lads.
"I did a Beatles event and Paul McCartney was at it and I was meant to hang with him afterwards, but I said no to go hang with Jedward. They're really sweet. Jedward have become friends of mine and I love Jedward. I paint, and I sent them a painting, and they sent me a painting back that they did and it was actually really, really good."
Speaking to the Irish Sun "I love Jedward. It's like a puppy, there is no way you can dislike Jedward. There is no side to them at all that's nasty - they are just nice. For people not to like them is weird."