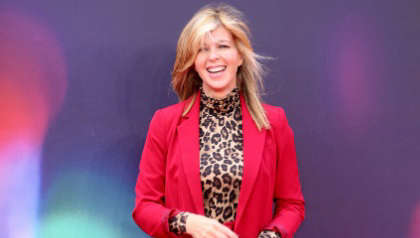 Kate Garraway has played down her resilience, having revealed that a recent heart scare was a warning to start looking after herself.
The Good Morning Britain presenter has been caring for her husband Derek Draper, who contracted Covid-19 in 2020, and spent months in a coma, and a year in hospital. The 56 year old former lobbyist now requires constant care.
When asked about how she was coping, Garraway, said, "In terms of staying strong, I don't know that I am that strong. And I did at the end of last year have a heart scare, which meant in the early hours of the morning I had to be rushed to hospital".
"It still isn't entirely clear what that was", she recalled "but it was a heart event - whether it was angina or whether it was some kind of stress-related effect".
"But that was a wake-up call for me, because when you are in a situation where somebody might live or die and that goes on... I talk about it in the book - adrenaline being a kind of 'frenemy'. On the one level, adrenaline gives you superpowers, but over a sustained period it does start to affect the way you think and the way your body operates, telling your body to be in a state of emergency all the time".
Garraway continued, "So I've had to try to relearn the way I approach things and manage the sort of negative spiral of thoughts you can have. I'm trying to sort of not jump to conclusions [about Derek's health] and use lots of different strategies".
While caring for her husband, Kate Garraway has made several documentaries, and written books, as she campaigns to raise awareness for carers.
When asked if she still has hope that Derek will fully recover, Garraway said, "I still fundamentally believe in the power of hope".
"It is about not conceding to the darkness, really," she explained. "But as regards Derek's actual condition, we still have no clear diagnosis. Obviously, you know, it was as a result of Covid, but in terms of what it looks like, [it] is very new for the medical profession. There is no established trajectory".
"Now, of course, that's not great - but on the other hand it also means that even the most negative predictions could be wrong too," Garraway added. "I do still have hope. What I do know now is it's going to take a long time."
"I think what we're trying to do is think of life as a collection of moments," she added. "And if we can have more good ones in a day than bad, then that's winning".
Kate Garraway has just published her latest book, 'The Strength of Love: Embracing an Uncertain Future with Resilience and Optimism'.
She was also made a Member of the Order of the British Empire for her services to broadcasting, journalism, and charity earlier this year.