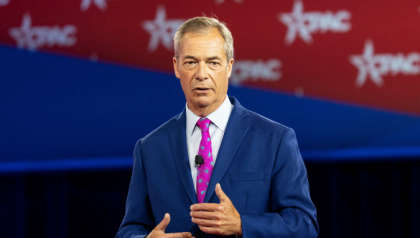 British politician Nigel Farage faced taunts over Brexit on his debut for I'm A Celebrity...Get Me Outta Here!'.
Former UKIP and Brexit Party leader, Farage, 59, was taunted over Brexit, before being chosen to participate in the next bushtucker trial.
Farage was introduced into the opening episode, saying, "I'm known for politics, for Brexit, and I'm a hero to some people and an absolute villain to millions".
"In the jungle you're going to find the real me. You might like me more, you might dislike me more, but you will at least find out", he added. "The best way to handle conflict is to tackle it head-on. I dealt with snakes in the European Parliament, I can cope with this too".
Presenters Ant McPartlin and Declan Donnelly, aka Ant and Dec, also joked about Farage's GN News show, by apologising to the channel's viewers for the fact that he will not be carrying out his presenting duties while he is in the jungle.
"Sorry Keith, sorry Linda", the pair said.
While he will take part in tonight's Bushtucker trial, Farage had revealed in a pre-show interview that he would be unable to do "anything involving weightlifting", as he has "quite serious physical injuries".
The politician was involved in a plane crash in at a Northamptonshire airfield in 2010.
"I've obviously had some quite serious physical injuries and neck reconstructions, and goodness knows what else," said Farage. "So they are fully aware that I'm a little bit damaged when it comes to bodily structure. But having said that, I can still do most things".
"I doubt any of the trials are actually going to kill me, although I don't think they'll all be a bag of fun but look, I signed up for this. It's in for a penny in for a pound. So let's go".