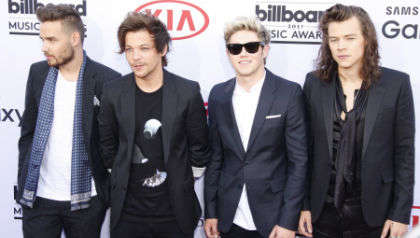 Louis Tomlinson has admitted that a One Direction reunion is "hard to imagine right now".
Tomlinson shot to fame alongside bandmates Harry Styles, Niall Horan, Zayn Malik, and Liam Payne as One Direction in 2010, and made the comments regarding a possible reunion while promoting his tell all documentary 'All Of Those Voices'.
"Getting back together at some point is hard to imagine right now", Tomlinson revealed to The Times newspaper.
However despite this, Tomlinson did add that the door is very much open for a 1D reunion in the future. "I'd be surprised if we lived out our lives and didn't have a moment where we had a reunion, or whatever you want to call it. I'd be up for that", he stated.
But for the moment, any talk of a reunion is firmly on hold according to Tomlinson, especially with the skyrocketing solo success and film career of former bandmate Harry Styles. Something that Tomlinson insists that he is now proud of.
However, Louis Tomlinson did concede that he was initially jealous of Harry Style's sparkling career as a solo star, as he had not found his feet yet. However, the singer who released his second solo album 'Faith in the Future' last November, has stated that he is happy for Harry, adding that his success comes as no surprise.
"Well, it's not a surprise is it? We were always aware that Harry fit that mould, and it's been an amazing thing to watch", he said.
Asked about the possible green eyed monster, Tomlinson added, "Envy? At the start maybe, when I was trying to find my feet, but it's never healthy to cross-reference your own success with others is it? These days I'm learning to elevate myself in those moments when I have to. I didn't know how to do that before, but now? Now I know I f****** can".
Elsewhere, Louis Tomlinson also conceded that he thought his career was over when One Direction split up in 2016.
"I thought for me, it was the band or nothing", he revealed. "It was hard for me to imagine myself on my own. I didn't see a way back — not even musically, but just to do anything".
According to a press release, 'All Other Voices' offers fans "intimate and unvarnished view of Louis' life and career. Through never-before-seen home movie footage and behind-the-scenes access to Louis' sell-out 2022 World Tour, All Of Those Voices offers a unique perspective on what it's like to be a musician in today's fast-paced world".
It will be shown in cinemas for a limited time on March 22.