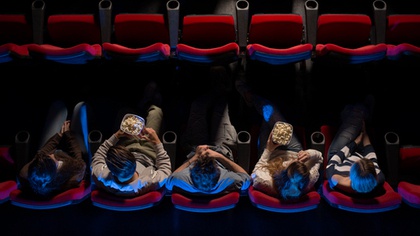 Here's your guide to the new movies opening in cinemas and arriving on home entertainment platforms this weekend.
A Family [Netflix]
Part family drama, part gangster thriller, this Japanese movie follows two decades in the life of a man taken in by a Yakuza crime family as a young boy. As an adult he finds himself at a moral crossroads.
Fatherhood [Netflix]
Released to coincide with Father's Day, Fatherhood gives comedian Kevin Hart a chance to show his dramatic range. He plays a widowed father struggling to raise his daughter. After landing himself in trouble over controversial tweets last year, Hart is hoping this will rehabilitate him in the eyes of the public.
Hitman's Wife's Bodyguard [Cinema]
This sequel to the 2017 action-comedy The Hitman's Bodyguard sees Ryan Reynolds and Samuel L. Jackson reprise their roles of bodyguard Michael and hitman Darius respectively. This time Darius has been kidnapped by mobsters, and Michael finds himself working alongside his volatile wife (Salma Hayek) as they battle terrorists.
In the Earth [Cinemas]
British director Ben Wheatley is known for cult genre movies like Kill List and A Field in England. Last summer he took advantage of the brief lifting of lockdown restrictions to shoot In the Earth. Inspired by COVID-19, the film posits a world ravaged by a deadly virus and sees a scientist venture into a sinister forest in search of a cure.
In the Heights [Cinema]
Before Hamilton made him a global superstar, Lin Manuel Miranda had a hit on Broadway with his first musical, In the Heights. Now adapted for the screen, this all-singing, all-dancing musical explores the lives of the residents of New York's Latin flavoured neighbourhood of Washington Heights.
It Must Be Heaven [Cinema]
Mixing documentary with fictional scenarios, this film sees Palestinian filmmaker Elia Suleiman leave his homeland and investigate various cities around the world as he seeks a potential new home.

Luca [Disney+]
The latest from animation giants Pixar is set in the sunny Italian Riviera. Jacob Tremblay provides the voice of the titular Luca, a sea monster who can assume the form of a human boy while on land.
Monster Hunter [Cinema]
The husband and wife director/star team of Paul WS Anderson and Milla Jovovich made a mint with their Resident Evil series. Now they've adapted another cult video game. Monster Hunter sees Jovovich play a soldier who finds herself in an alternate world where the human race is fighting an ongoing battle with giant monsters.
The Reason I Jump [Cinema]
Inspired by Naoki Higashida's memoir of the same name, The Reason I Jump is a documentary that follows five autistic individuals and examines how they see the world around them.
Silver Skates [Netflix]
This epic Russian period romance sees a teenage pickpocket fall in love with an aristocrat's daughter. Think Romeo and Juliet, on ice.
Superdeep [Shudder]
Remaining in Russia, this Soviet-era set sci-fi thriller harks back to the Chernobyl disaster as a scientist is called to help avert a potential disaster at a secret underground facility where deadly spores are destroying everything in their path.
The Stylist [VOD]
Something of a gender reversal of last year's Joker, The Stylist features a compelling performance from Najarra Townsend as a socially isolated hairdresser who murders her customers, building a collection of their scalps in her basement.
Where'd You Go, Bernadette [Sky Cinema]
Filmed back in 2017, this much maligned adaptation of Maria Semple's novel finally becomes available in Ireland. Cate Blanchett plays an architect turned housewife who suffers a breakdown and takes an impromptu trip to Antarctica, leaving her family in the dark as to her whereabouts.