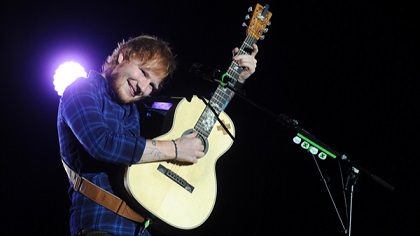 A home video of Ed Sheeran performing in a school production of Grease will be sold at auction. The DVD is being sold by Omega Auctions, which shared a snippet of the video ahead of the sale that will take place on June 29th.
Footage of a teenage Ed Sheeran singing in his school's rendition of the musical, Grease is set to go up for auction. The almost two-hour-long film shows the Thinking Out Loud singer as a small 15-year-old, playing the character of Roger (Rump).
Donning a black leather jacket and cool, slicked back hair, Ed shares a solo rendition of the song Mooning to the audience. Omega Auctions, who are tasked with finding a new home for the special DVD recording, has shared a preview of it ahead of the sale on June 29th.
Auctioneer Paul Fairweather said: "Over the last year or so we've seen an exponential increase in interest for memorabilia and collectables relating to contemporary artists, especially Ed Sheeran.
"We sold a rare early CD title for £50,000 in September of last year and since then the enquiries and consignments have been non-stop. The footage is a great watch, and we think it definitely gives a hint as to Ed's star potential."
The news comes after another piece of Sheeran art raised £51,000 for his local cancer charity, auctioning his painting at a raffle in March. At the time, The Star explained that the piece, entitled Splash Planet grew inspiration from American abstract painter, Jackson Pollock.
The piece of art was bought by a person from the east coast of the United States, paying just £20 for their ticket. Later this month, Ed is marking his comeback and is due to release his first solo single in four years - Bad Habits. The singer-songwriter will unveil the new track on June 25th, marking his first solo record since 2018's Happier.
"I've been working away in the studio over recent months, and I can't wait for you to hear Bad Habits. I always aim to push myself and my music in new directions and hopefully you'll hear that on the new single. Feels great to be back!"