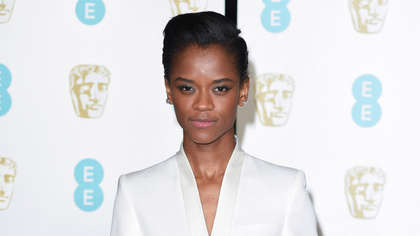 Black Panther actress Letitia Wright has denied reports that she spread her anti-vaccine views on the set of the superhero movie's upcoming sequel.
Wright was one of the first celebrities to air their opposition to COVID-19 vaccines when she released a video promoting anti-vax conspiracy theories last year.
The Hollywood Reporter claims that Wright has been spreading her anti-vax theories while filming Black Panther: Wakanda Forever. The British actress has taken to social media to deny this.
"It saddens me to have to address the reports published by The Hollywood Reporter," Wright wrote on her Instagram account. "The report spoke about my conduct on the set of Black Panther 2. I honestly assert that this was completely untrue. Anyone who knows me or has worked with me, knows that I work incredibly hard at my craft and my main focus is always to do work that's impactful and inspiring. That has been and will continue to be my only focus."
As has become de rigueur for apologetic celebs, Wright emphasised her spirituality.
"I will continue to hold onto God's hands, and onto the scripture of Isaiah 54:17," Wright wrote. "I continue to focus on my healing. Thank you for your prayers. And I continue to pray for God's love, peace and joy for you all. God bless you."
Wright accompanied her post with an image of a knight in black armour with the Isaiah 54:17 quote: "Weapons made to attack you won't be successful; words spoken against you won't hurt at all."
Wright provoked a backlash last December when she shared a video by controversial British preacher Tomi Aroyomi, who describes himself as "a well recognised Prophet and the Managing Director of Prophetic Voice TV."
In the video Aroyomi theorised that the COVID-19 vaccine was a secret ploy to inject people with 5G antennas and that it could turn people into human-animal "chimeras."
Wright's Marvel co-star Don Cheadle branded the video "hot garbage" and called its claims "F'd up."
The backlash prompted Wright to delete her social media accounts. But before doing so she defended her views, claiming she wanted to air her doubts about the vaccine's safety.
"My intention was not to hurt anyone, my only intention of posting the video was it raised my concerns with what the vaccine contains and what we are putting in our bodies," she wrote on Twitter. "Nothing else. I'm just concerned about what's in it that's all."
"Tonight I'm talking about Luciferase, the ingredient allegedly being added to the COVID vaccine to detect those who have not taken it," the description of Aroyomi's video reads. "Luciferase, named by its founder after Lucifer???"
Luciferase is an enzyme that glows when subjected to certain light wavelengths. One anti-vax theory claims that it's used to detect anyone who hasn't taken the vaccine.
"I don't understand vaccines medically, but I've always been a little bit of a skeptic of them," Aroyomi admits in the video.
Aroyomi also appears to suggest that because the vaccine contains animal DNA it could turn people into human-animal hybrids.
Among his other wild claims is a tale of how an angel visited him to tell him US Supreme Court Justice Ruth Bader Ginsburg was about to die.
While Hollywood has generally gotten on board with vaccines, some productions have been disrupted by crew members refusing to accept the jab.
Sean Penn stormed off the set of TV show Gaslit when he learned several crew members were unvaccinated. He refused to return until two months later, when everyone involved with the production had received their jabs.
One of the few Hollywood anti-vaxers is Top Gun: Maverick star Miles Teller, who not only refuses the vaccine but also refuses to get tested. He contracted COVID -19 in July while shooting The Offer. When other crew members caught the virus, the production was forced to shut down for a month.