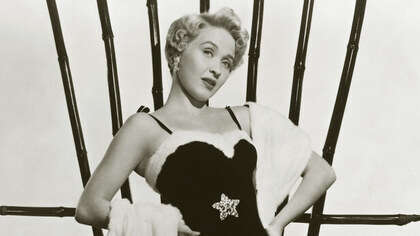 Hollywood has lost another of its classic stars with the passing of Jane Powell, best known for her role in musical Seven Brides for Seven Brothers.
A spokesperson for Powell's family confirmed that the star passed away from natural causes at her home in Wilton, Connecticut on Thursday. She was 92.
Born Suzanne Lorraine Burce on April Fools' Day 1929, Powell was groomed for stardom at an early age by her parents, who saw their daughter as a way out of poverty. Neighbours of Powell's family chipped in to pay for singing lessons for the child. Powell immersed herself in singing and dancing as a way to escape her troubled childhood – she was sexually assaulted by a group of boys and was regularly a victim of her mother's violent temper.
In her early teens, Powell landed a gig travelling her home state of Oregon promoting the sale of World War II bonds with her singing and dancing act. In this period she became a local radio star, known as the Oregon Victory Girl.
After winning a Los Angeles radio talent contest in 1943, Powell was offered a seven-year contract with Hollywood studio MGM. Powell actually preferred to complete high school, but felt pressured into accepting the contract by her parents.
Adopting her new showbiz name, Powell made her movie debut in 1944's Song of the Open Road, an Esther Williams headlined musical. She would spend her teens alternating between movie roles, radio appearances and theatre performances. In 1949 she was selected to sing at the inauguration ball of President Harry S. Truman.
In the late '40s Powell began to step out of supporting roles to headline musicals. 1948's A Date with Judy saw her star opposite one of her school friends, an actress named Elizabeth Taylor. Powell would be a bridesmaid at the first of Taylor's many weddings.
The 1950s saw musicals become big business in Hollywood, and it was during this period that Powell did her most famous work. In 1951 she starred alongside Fred Astaire in Royal Wedding, directed by legendary musical director and choreographer Stanley Donen. Powell stepped into the role when Judy Garland pulled out due to her infamous "personal problems." Royal Wedding showcased Powell's singing, dancing and comic skills, making her a staple of the musical genre in the following years.
Powell's biggest hit came in 1954 when she was cast in Stanley Donen's Seven Brides for Seven Brothers. With the story set in her home state of Oregon, Powell was a natural choice for the smash hit musical. The film's success would overshadow her subsequent career, becoming known as her signature role. She earned a star on the Hollywood Walk of Fame in 1960.
The '60s saw Powell step back from movies to focus on a return to the stage, where she appeared in productions of The Sound of Music, The Boy Friend, My Fair Lady and more.
By the 1970s, a new generation of stars had taken over Hollywood. The cynical tone of '70s American cinema had no place for all-singing, all-dancing Powell, who took roles in TV movies before deciding the stage was where she truly belonged. She worked in theatre until well into the 2000s. In 2007 and 2008 she collaborated with music act Pink Martini in their retro themed stage shows.
With the passing of Powell, Hollywood's connection to its golden era loses a little more of its sparkle.