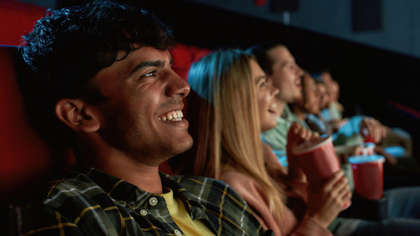 Here's your guide to the new movies opening this week in Irish cinemas and on Home Entertainment platforms.
'76 [Netflix]
A pregnant woman sets out to clear her husband's name when he is accused of involvement with a military coup. This Indian drama is absed on true events.
Beasts Clawing at Straws [Curzon Home Cinema]
When a man finds a bag filled with money it sets off a chain of events in this acclaimed Korean crime thriller. Director Kim Yong-hoon's film has been compared to the work of the Coen brothers.
Boys from Country Hell [Cinemas]
In this horror comedy from Northern Ireland, a crew of road workers unwittingly awaken a centuries old vampire from his slumber. It's very much a throwback to '80s movies like The Lost Boys.
The Fever [Curzon Home Cinema]
In the Brazilian port city of Menaus, an aging dock worker succumbs to a mysterious fever. Meanwhile a sinister, unidentified animal is stalking his shanty town.
How to Deter a Robber [VOD]
In this comedy a young couple defend their home against a pair of inept burglars. Think Home Alone for adults.
The Last Letter from Your Lover [Cinemas]
Adapted from JoJo Moyes' novel. In the style of The Notebook, this romantic drama spans two timelines as a journalist discovers a secret stash of love letters that reveal a secret affair among the British aristocracy.
Man Under Table [Arrow]
This mind-bender takes a surreal look at the struggle to make it in Hollywood. Writer/director Noel David Taylor also stars as a screenwriter who runs into increasingly bizarre situations as he attempts to sell his movie script.
Moonbound [Cinemas]
This kids' animation from Germany follows a young boy who travels to the moon when his sister is kidnapped by aliens.
Out of Death [VOD]
When a woman runs across a pair of crooked cops torturing a suspect, she enlists the aid of a retired cop to make it out of the woods alive. The latest of Bruce Willis's many straight to VOD thrillers.
Profile [Cinemas]
Inspired by real events, this tense thriller sees a British journalist pose as a young Muslim woman to entrap an ISIS recruiter over the internet. Like recent thrillers Unfriended and Searching, it's the latest movie to play out its action within the confines of a laptop screen, and it uses the format to great effect.
Son [Cinemas]
A woman hits the road with her young son when she believes the cult she escaped from has caught up with her. This American thriller is directed by our own Ivan Kavanagh.
Stillwater [Cinemas]
Taking the Amanda Knox case as its cue, this drama stars Matt Damon as an American roughneck who travels to France hoping to clear his daughter of a murder charge. It's directed by Tom McCarthy, who won an Oscar for his Catholic Church abuse drama Spotlight.
The Swarm [Netflix]
In this French throwback to the monster movies of the 1970s, a farmer discovers a way to increase production on her locust farm by feeding the creatures blood. But of course things get out of hand and the local area finds itself under attack by a swarm of bloodthirsty locusts.
Teddy [Shudder]
Staying in France we have a very Gallic take on the werewolf genre. The titular Teddy is a teenage outsider who starts to grow hair in embarrassing places after being bitten by a wolf. Soon he's stalking his village for victims.
Vivo [Netflix]
In this animation, a Cuban kinkajou attempts to travel to the US to deliver a love letter from his sickly owner to the love of his life. Features new songs by Hamilton's Lin-Manuel Miranda.
Zola [Cinemas]
Inspired by a Twitter thread that went viral in 2015, Zola tells the anarchic story of a waitress who befriends a stripper and heads to Florida for a weekend making money at a strip club. Things take a wild turn as the story takes in prostitution, murder and suicide attempts.