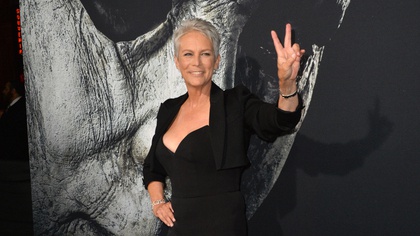 Actress Jamie Lee Curtis returns to the role that made her a star in the first trailer for the latest instalment of the Halloween franchise.
Back in 1978 a teenage Curtis was struggling to find roles, despite being the daughter of Hollywood royalty Tony Curtis and Janet Leigh. After a handful of small parts on various TV shows, she finally landed the role that would make her a star when director John Carpenter cast her as Laurie Strode in a little horror movie called Halloween.
That movie went on to become a surprise hit, making almost $70 million in profit against its miniscule budget of $300,000. A large part of the film's success is down to Carpenter's expert direction, patiently cranking up the terror over the course of 90 minutes to a climax that has many viewers watching through their fingers or cowering behind the sofa. But Curtis played an integral role as Strode, a character young women could identify with.

Unlike the cardboard heroines of most of the slasher movies that would follow in the late '70s and early '80s, Laurie was relatable, an awkward, bookish young woman whose biggest worry was whether she could find a date for the prom. When she's plunged into a nightmare upon the return of killer Michael Myers to his hometown of Haddonfield, Illinois, Laurie finds an inner strength and fights back. Thus saw the creation of a character type that has become known as the "final girl", the horror heroine who survives to take down the villain before the credits roll.
Curtis so embodied the final girl archetype that she quickly found herself typecast in the years immediately following Halloween's release. Returning for a 1981 sequel, along with lead roles in films like Prom Night, Terror Train and a reunion with director Carpenter for The Fog, Curtis became worried she would always be considered a horror star. Beginning with 1983's Eddie Murphy vehicle Trading Places, Curtis made the switch to comedic and dramatic roles, vowing to leave the role of Laurie Strode behind her.
Horror fans were ecstatic in 1998 when Curtis had a change of heart and agreed to reprise the role of Laurie for Halloween H20, then the seventh movie in a franchise that had experienced several ups and downs by that point. This sequel saw a thirtysomething Laurie living in California where she is employed as a teacher at a boarding school. Struggling to put the trauma of that night in '78 behind her, Laurie has taken to the bottle and every October becomes convinced that Myers is finally going to catch up with her. The masked menace does indeed show up, with Laurie forced once again to battle the essence of evil.
Curtis's return came with a caveat, stipulating that Myers be killed off for good at the end of the movie. Of course, as soon as the movie became a hit the producers were desperate to continue the franchise, finding a daft way to bring back Myers for the much lament eighth instalment, 2002's Halloween: Resurrection. Curtis reluctantly agreed to return, but only for a brief appearance in the film's opening scene, which ends with her death.
It seemed Curtis was finally done with the Halloween franchise. When director Rob Zombie rebooted the series in 2007 he cast another actress, Scout Taylor Compton, in the role of Laurie, now returned to her teenage years. But 2007's Halloween and its 2009 sequel were widely disliked by fans, and ideas for another reboot would be kicked around over the next decade.
In 2018, Curtis found herself battling the bogeyman once again, returning as Laurie for David Gordon Green's Halloween. The highest grossing movie of the series, that reboot/sequel disregarded all the previous sequels and saw Laurie still living in Haddonfield, now a grandmother. Where the H20 version of Laurie was living in fear of Myers' return, the 2018 Laurie was well prepared, rigging her home with traps and brushing up on her shooting skills.
But you just can't kill the bogeyman.
Despite Myers' apparent demise at the end of the 2018 film, he's back for Halloween Kills. Filmed back to back with a third instalment, Halloween Ends, set for a 2022 release, Halloween Kills is scheduled to hit Irish cinemas this October. The first trailer has arrived courtesy of Universal Pictures, and you can watch it below.