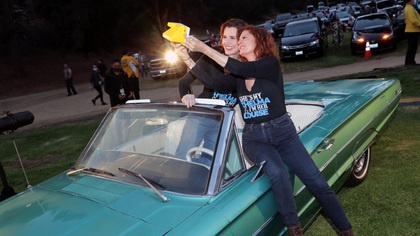 Stars Susan Sarandon and Geena Davis reunited for a special screening of Thelma & Louise at Los Angeles' famous Greek Theater on Friday, June 18th. The actresses were decked out in matching t-shirts emblazoned with the message "I'm Her Thelma & She's My Louise."
The drive-in screening, which saw guests watch the movie from their cars, was held to celebrate the 30th anniversary of the trailblazing film. A percentage of the proceeds will be donated to the LA Regional Food Bank and The Geena Davis Institute On Gender In Media.
Along with its two leading ladies, the film's Golden Globe and Oscar-winning screenwriter, Caillie Khouri, was also in attendance. All three took part in a questions and answers session after the screening. Guest celebs included singer Rufus Wainwright and comic actors Nick Offerman and Megan Mullally.
It wasn't just the film's human stars that showed up. The iconic 1966 Ford Thunderbird convertible, which the titular duo famously took on their road trip, was on display courtesy of the Petersen Automotive Museum Foundation.
Directed by Ridley Scott, 1991's Thelma & Louise saw Davis and Sarandon play Thelma Dickinson and Louise Sawyer, a pair of friends who go on the run after shooting dead a would-be rapist. It also introduced mainstream audiences to a young actor by the name of Brad Pitt in a memorable role as a handsome young hitch-hiking cowboy picked up by the pair.
The film was a sensation on its release, giving female viewers the sort of characters they had been longing to see after a decade dominated by testosterone heavy, male-lead action movies. It was a success with both audiences and critics, and scooped six Academy Award nominations. Along with Khouri's win for Best Screenplay, Davis and Sarandon were both nominated in the Best Actress Category; Scott for Best Director; Adrian Biddle for Best Cinematography; and Thom Noble for Best Editing.
Female critics instantly hailed Thelma & Louise as a feminist classic. In a 2011 article examining the film on its 20th anniversary, writer Raina Lipsitz even went so far as to call it "the last great film about women", noting how Hollywood failed to take note of its success and instead went back to courting teenage boys rather than adult women with its subsequent output.
In the Q+A, Khouri similarly lamented Hollywood's failure to learn from the success of Thelma & Louise. "There are going to be so many movies starring women, about women," was her thinking at the time of the film's release, but Khouri added "I'm thinking, hot dog, let's sit back and wait for all this magic change to happen. We're still waiting. It really did not happen. It seems like every five years or so, there's another movie starring women that's a huge hit and people say, 'Well now certainly everything is going to change,' and it really hasn't."
Davis was keen to discuss how the film's response changed her views on the characters she would subsequently agree to play. "It made me realise how few opportunities we give women to come out of a movie feeling empowered by the female characters. Men get that every movie they watch," she said. "It made me really think about what women in the audience are going to think about my character from now on and led me to want to play parts where I could feel good about the choices the character makes. I turned down parts based on that thinking for sure."
However, while women embraced the film, some male critics were less impressed. The New York Post's Kyle Smith called it "a misogynist tale about unbelievably ditzy women," while John Leo labeled the film "neo-fascist" in his column for U.S. News and World Report.
Sarandon addressed the backlash from certain male commentators. "I completely underestimated that we were backing into territory held by white heterosexual males. They got offended and accused us of glorifying murder and suicide and all kinds of things. It didn't seem like a big deal, it seemed like it was unusual that there would be a woman that you could be friends with in a film. Normally, if there were two women in a film, you automatically hated each other for some reason. … Next thing we knew, all hell broke loose."
Thelma & Louise is currently available to rent or buy on most digital platforms.