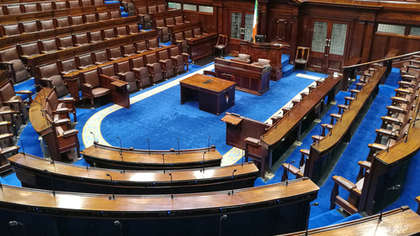 Former Limerick TD and Progressive Democrats founding member Des O'Malley has died at age 82.
O'Malley seemed destined for politics, with both his father and two of his uncles having held the office of Mayor of Limerick. His uncle Donogh O'Malley famously introduced free secondary education to Ireland as Minister for Education.
Des O'Malley was elected to the Limerick East constituency in 1968.
He became Minister for Justice in 1970 amid the arms crisis.
O'Malley was famously an opponent of Charles Haughey, who expelled him from Fianna Fáil in 1984 for "conduct unbecoming."
A year later, O'Malley would found and become the first leader of new poltiical party the Progressive Democrats.
In 1989 the PDs would form a coalition government with Fianna Fáil, with O'Malley becoming Minister for Industry and Commerce.
O'Malley left the PDs in 1993. He maintained his Limerick East post until retiring from politics in 2002.
"Des O'Malley was a giant of politics," said Tanaiste Leo Varadkar. "He broke the mould of Irish politics and left a lasting and positive legacy. May he Rest in Peace."
Former Fianna Fáil Minister Noel Dempsey said O'Malley had "changed the face of Irish politics and changed the face of Fianna Fáil."