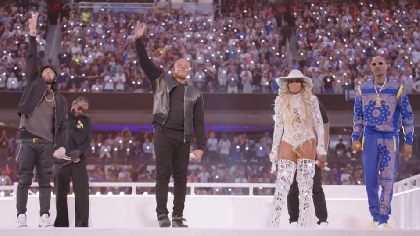 It was a 90's extravaganza at the Superbowl overnight with the half-time show.
The crowd went wild during a 14 minute performance from Dr.Dre, Snoop Dogg, Eminem, Mary J.Blige and Kendrick Lamar at the SoFi Stadium. This was the first time hip-hop artists performed at the Superbowl.
It was produced by Jay-Z who said this year's performances were "history in the making". The artists aren't paid and it's has been reported that Dr.Dre put up most of the $7 million budget himself even though in previous years, production costs were always covered by the NFL.
WATCH THE PERFORMANCE https://www.youtube.com/watch?v=gdsUKphmB3Y