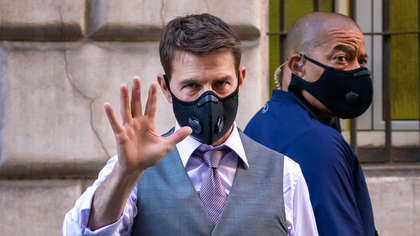 Hollywood superstars Tom Cruise and Harrison Ford made surprise appearances in public while taking a break from shooting their respective films in England.
A hungry Cruise popped into an Indian restaurant in Birmingham on Saturday for some chicken tikka masala.
Cruise was so impressed by the meal at Asha's that he ordered a second helping.
Posting on social media, Asha's said it was "an absolute pleasure to welcome" the Mission Impossible star to their establishment. "Tom ordered our famous chicken tikka masala and enjoyed it so much that as soon as he finished, he ordered it all over again - the greatest compliment."
It was an absolute pleasure to welcome Tom Cruise to Asha's Birmingham yesterday evening 🌟

Tom ordered our famous Chicken Tikka Masala and enjoyed it so much that as soon as he had finished, he ordered it all over again - The greatest compliment 😋 pic.twitter.com/gemd7QJUEg

— Asha's (@Ashas_UK) August 22, 2021
Cruise's favoured dish of chicken tikka masala is sold for £19.45 in Asha's, whose menu describes it as "Tandoori chicken tikka cooked to perfection in chunky tomato and onion gravy."
The Top Gun actor isn't the first movie star to dine at the Birmingham restaurant. Over the years it's become a favourite haunt of Bollywood stars seeking a taste of home while filming in the UK. Indian superstars like Anil Kapoor, Shahrukh Khan, Priyanka Chopra and Amitabh Bachchan have all dined at Asha's, as has boxer Amir Khan and celebrity chef Heston Blumenthal.
Cruise has spent the last year and a half in England due to the stop/start nature of filming on the latest instalment of the Mission Impossible series. Several on-set COVID outbreaks have forced the production to shut down at various points, swelling its considerable budget.
Last week an elaborate stunt involving a train plunging over the side of a cliff was filmed in Derbyshire. Cruise was pictured landing on the set by helicopter. The stunt was captured in amateur footage which you can see in the tweet below.
Mission Impossible 7 is due in cinemas next May.
This is the moment a train was launched off a cliff top in Stoney Middleton as part of the filming for Mission Impossible 7 🚆🎥 pic.twitter.com/y7aUG3PHyt

— BBC Radio Derby (@BBCDerby) August 20, 2021
Cruise wasn't the only megastar mingling with the public over the weekend.
On Saturday night Harrison Ford made a surprise visit to London Fire Brigade's Blue Watch station.
The actor was spotted getting out of a car outside the station by station officer Ryan Osbourne at around 8pm.
Chancing his arm, Osbourne introduced himself to Ford before introducing the Indiana Jones star to a member of his staff.
Andrew Shaw was finishing his final shift before retiring from service after 31 years when his station officer introduced him to Ford, who wished him well with his retirement.
"It was a pleasure to be able to say farewell to Andrew on his last shift with the impromptu help of Han Solo," Osbourne said. "Being based at a busy central London location we do sometimes see famous faces passing by, and this just happened to be perfect timing."
Taking to Twitter, Westminster LFB wrote "Han Solo comes to Soho! Mr Ford was kind enough to congratulate firefighter Andrew Shaw on his last shift for 31 years of service."
Han Solo comes to Soho!! Mr Ford was kind enough to congratulate Firefighter Andrew Shaw on his last night shift for 31 years of service.@LondonFire@HarrisonFordLA pic.twitter.com/BWiP2PcT2w

— Westminster LFB (@LFBWestminster) August 21, 2021
Ford currently has time on his hands as he recovers from an injury sustained on the set of Indiana Jones 5. Last week he was photographed collecting a takeaway pizza in London's Mayfair district.
The 79-year-old is sidelined until next month after suffering a shoulder injury earlier this summer.
While its leading man is out injured, the film has been shooting around his character, with a major set-piece shot in the streets of Glasgow last month.
Indiana Jones 5 is expected in cinemas in summer 2022.