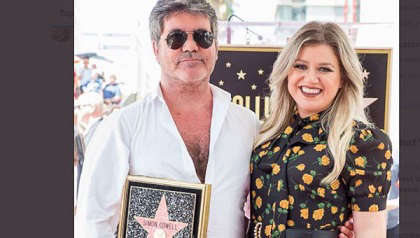 Simon Cowell was full of praise of praise for Kelly Clarkson, after the singer was inducted into the Hollywood Walk of Fame at a ceremony in Los Angeles.
Kelly Clarkson catapulted to fame when she won the first ever series of American Idol in 2002, where Simon Cowell was a judge, who hailed Clarkson as "one of the most loyal, talented" people, who helped her throughout his career.
Clarkson has subsequently had 17 tracks which have been certified platinum, multi-platinum and Gold in her career.
Before the Since You've Been Gone singer's name was unveiled on the Walk of Fame, media mogul Simon Cowell made a speech at the ceremony, which took place at at 6801 Hollywood Boulevard in front of Ovation Hollywood.
"I remember the day we met you. I remember not just your voice but your personality", Cowell said. "I didn't realise at that point how good you were, I just liked you, and I'm so thankful".
"I can honestly say thanks to you I'm here today, genuinely, I swear to God", he continued. "Because you validated what we did – if we didn't find a star there's no point in doing these shows. And I could never predict what was going to happen".
"The Kelly you see in front of the camera is the Kelly you see behind the camera, she is one of the nicest, most loyal, talented people I have had the great, great fortune to help".
Upon receiving her honour, Kelly Clarkson who has sold 25 million albums, said that she was delighted to "not just have yes people".
Her star is the 2,733rd star on the Hollywood Walk of Fame.