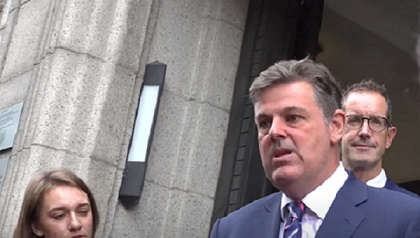 Director-General for RTÉ Kevin Bakhurst has announced a recruitment freeze with immediate effect.
Bakhurst confirmed this in an email sent to staff, where he also said that all discretionary spending would be stopped.
In his email, Mr Bakhurst said that he "regrets" how this will affect RTÉ's coverage, as well as its plans to invest in equipment and digital.
Bakhurst wrote that "given the steep fall in the licence fee and the uncertainty over interim funding, it is the only responsible thing that we can do".
It was already confirmed that the board members of RTÉ were to face questions at an Oireachtas Committee regarding financial controls. The chair of the committee Niamh Smyth had insisted that "not one red cent" should be made available to RTÉ in additional funding until they answer these questions.
Siún Ní Raghallaigh the chair of RTÉ Board, will say that the national broadcaster are facing huge pressure on several fronts. She is to also tell the board that Kevin Bakhurst and his interim leadership team are to also complete a strategic review of RTÉ, which will "then shape what will be a costed restructuring plan".
RTÉ has faced major scrutiny over the last number of months, following revelations of underhand secret payments made to former presenter Ryan Tubridy.