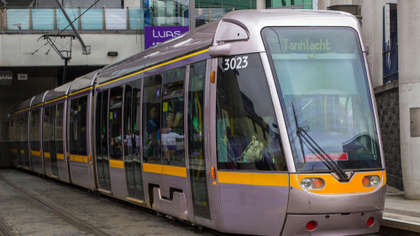 LUAS have ramped up security on their services following a report that revealed many women feel unsafe on public transport.
The number of LUAS security officers has been temporarily increased by 30%.
This follows the publishing of a report titled 'Travelling in a Woman's Shoes'.
The report found that both men and women are equally likely to be victims of assault on public transport but that women were more likely to experience sexual harassment. Women feel less safe than their male counterparts and as such are more likely to avoid using public transport, particularly at night.
55% of women surveyed for the report said they wouldn't use public transport after dark. 34% confessed to avoiding going out at time due to safety concerns.
Transport Infrastructure Ireland's head of financial management Rachel Cahill said that "fortunately for most women, violent and unsafe incidents do not happen everyday, but the impact of such trauma is felt everyday, having a lasting effect on transportation habits and perceptions."
The effects of the added security will be reviewed in August and the measures may continue into September. TII claims that security will be doubled in areas prone to anti-social behaviour.
LUAS plans to add a feature to its app that allows real time reporting of anti-social behaviour, however it's not expected to be implemented until next year.