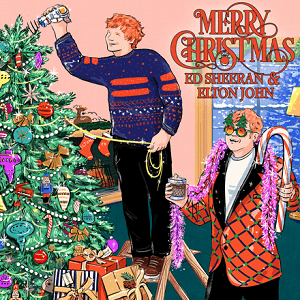 Ed Sheeran and Elton John's newest collaboration "Merry Christmas" has taken the U.K. charts by storm this weekend with the song set to reach Number 1 if current trends continue.
"Merry Christmas" is currently outselling the reigning number one track - Adele's "Easy On Me" - with more than double the amount of chart sales. If the Christmas track can topple Adele's weeks-long reign, it would mark Sheeran's 12th Number 1 single, as well as Elton John's ninth.
The duo's collaboration is one of four Christmas songs in the Top 20 for Official Charts : First Look at the moment. George Ezra's recent release "Come On Home For Christmas" has soared into the top 5, an impressive jump from its 36th placement on last week's charts.
Sheeran, John, and Ezra are joined in the Top 10 by The Pogues & Kirsty MacColl's "Fairytale of New York"(6), Shakin' Stevens' "Merry Christmas Everyone"(7), Michael Buble's "It's Beginning To Look A Lot Like Christmas"(8), and Brenda Lee's "Rockin' Around The Christmas Tree"(9).