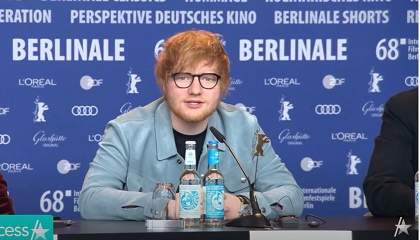 Despite his recent Covid-19 diagnosis, Ed Sheeran is doing all he can to get his fans hyped up for his new album '='.
Sheeran's fourth studio album '=' [Equals] drops this Friday (October 29th). In addition to the release Sheeran announced that he will also be dropping a mew music video for his song "Overpass Graffiti" tomorrow.
In a teaser clip for the upcoming video a newscaster can be seen reporting that Sheeran has gone missing from his tour bus. When asked about the singer's whereabouts, Sheeran's head of security doesn't seem particularly concerned with the disappearance, but hopes that the singer returns before the next show as he need him alive "for the Christmas bonus."
In addition to the new music video, Sheeran has also announced that he will be appearing at a special U.K. holiday benefit concert at St. John at Hackney Church in London on December 13th. Proceeds from the performances will go towards funding the singer-songwriter's Suffolk Music Foundation. U.K. residents have the chance to access exclusive tickets to the show when they pre-order '=' from Sheeran's official online store.