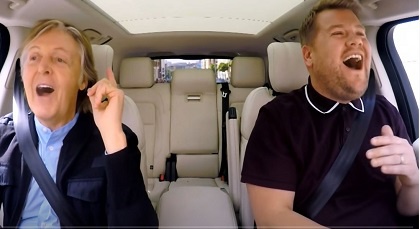 James Corden has said that his popular segment Carpool Karaoke could make a return this Summer. The show which sees music stars burst into song, singing their hits while being driven around by Corden has been put on hold due to the pandemic.
The most recent star to feature on the show was former One Direction singer Naill Horan who featured on the segment during March 2020, shortly before the world was brough to a standstill due to the Covid-19 pandemic.
"A whole raft of artists"
"I don't know really, we wonder when someone will tell us it's OK", Corden said during his appearance on the Ellen DeGeneres Show. "I don't know, I'm hopeful for the end of summer or autumn time that we'll be able to do it again".
"It feels like there's a whole raft of artists that we're desperate to do it with that have had the most incredible last few years", Corden also added.
"I hope so much we'll be able to do it before the end of the year. I hope".
"Incredibly moving"
During the same interview, Corden recalled Stevie Wonder's "incredibly moving" appearance on Carpool Karaoke in 2015. Corden also called it a "turning point" for the show which has since attracted global superstars like Paul McCartney, Jennifer Lopez, Adele and Elton John.
"What's on TV was really moving, I couldn't help but be overwhelmed with it", Corden said. "So much of my life, I just think, 'if this was an auction prize, this would go for millions of dollars".
During his appearance on the segment, Stevie Wonder also serenaded Corden's wife Julia over the phone. He sang a personalised version of his hit I Just Called To Say I Love You.
"Stevie Wonder is going to call your wife and sing 'I just called to say James loves you", Corden added. "I don't know what I've done to deserve so many memories".
"So I had this gorgeous image of her just being completely overwhelmed with emotion but she was just literally in a toilet at a restaurant when someone was singing this love song down the phone", he added.
"And I'm glad I didn't know that at the time because it was so moving when it happened in real life".
You can check out Wonder's appearance on Carpool Karaoke and that phone call with Corden's wife Julia below.
Speaking of Paul McCartney, James Corden recalled in a separate interview how the Beatles icon's appearance on Carpool Karaoke nearly fell by the wayside after Paul backed out of the segment on three occassions, including on the morning of filming!
Corden admitted sending a personal email to McCartney himself, saying "I completely respect your decision not to do it. But I need you to understand what the knock-on effect is for our show'". He also called McCartney's behavour "unacceptable". He also wrote, "I guarantee you, I promise you, that it will be great. And the reason it will be great is that you are Paul McCartney".
On the morning, when McCartney cancelled again, James said to him "Paul, your only day's work today is to have a great time and if you have a great time this is going to work".
To cut a long story short, the segment went ahead and was another success, with McCartney texting Corden afterwards, "We did it – thank you for convincing me for doing it!'".
Check that out here.