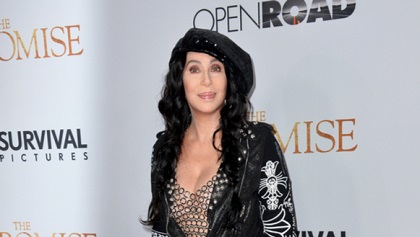 Cher has joined TikTok and has wished her fans a "Happy Pride Month" in her first post on the site. Check it out below.
The legendary singer posted a video on her new account last week (June 23). In the video, she is wearing an assortment of colourful wigs.
"The Great and powerful Cher"
Wearing a blonde wig and a white fur lined jacket with black pants in her first take, Cher said, "Hi, it's me, the great and powerful Cher. And I'm on TikTok".
For her second take, Cher wore a brunette wig, and a black and white striped jacket, "Hi, it's me, Cher, on TikTok". Switching back to her blonde wig for her next take, Cher added, "Guess who I am? I'm on TikTok".
Switching to a brunette wig for her final take, Cher then cheered, "Hi, of course you know who I am. I was gonna introduce myself, but no". Cher then shared a PSA for Pride Month, "Happy Pride Month to everybody in the community that I love, and that means you".
Hi, I'm on @tiktok_us Happy Pride 🏳️‍🌈 do you prefer blonde or brunette? #foryourpride 🔗https://t.co/1mv23RZsOK pic.twitter.com/GSrgIDR4D8

— Cher (@cher) June 24, 2021
Cher's track "Believe" was also covered by Miley Cyrus to celebrate Pride Month. Here's another chance to check that out below.
Last month, Cher had announced that a biopic on her life and career would be released. The biopic will be produced by the same people responsible for Mamma Mia! Mamma Mia was produced by Gary Goetzman and Judy Craymer.
Ok Universal is Doing Biopic With My Friends JUDY CRAYMER,GARY GOETZMAN PRODUCING.
THEYY PRODUCED
BOTH MAMMA MIA'S,&
MY DEAR DEAR Friend 4 YRS, & OSCAR WINNER..ERIC ROTH IS GOING 2 WRITE IT👻🎂‼️
FORREST GUMP
A STAR IS BORN
SUSPECT
TO NAME A FEW OF IS FILMS

— Cher (@cher) May 19, 2021